Is it time to upgrade your Wi-Fi network?
Upgrade your network with next-generation Wi-Fi from Alcatel-Lucent Enterprise
Let's face it, more and more devices are connecting to networks through Wi-Fi. In fact, everywhere we go, the first question we ask is "how do I connect to the Wi-Fi network?". And with the onslaught of the Internet of Things, your customers' current wireless networks are probably feeling the pressure and are buckling under the load.
If your customers' networks are at least 5 years old, they will most likely experiencing:
Transmission quality issues on real-time applications like voice and video streaming
Slow connections especially in dense environments where multiple devices are simultaneously accessing the wireless network
Increasing number of hacking attempts on the network – older access points don't have the necessary security protocols to prevent common hacking techniques
Wi-Fi 6 supports higher bandwidth to address the ever-growing number of Wi-Fi connected devices and bandwidth-hungry applications, enhanced connection stability and reliability, increased range of coverage and extended battery life for connected devices.
Watch the Tolly Group interview with Subash Bohra from ALE on Wi-Fi 6 – what it is and why it matters:
Article: What is Wi-Fi 6 and why should you care?
---
Why Choose ALE Stellar WLAN?
Wi-Fi is no longer a nice-to-have, but a business necessity, expectations of what it can deliver and how easy it should be to use for mobility, are being radically redefined. Once, the expectation may have been that deploying a wireless LAN within the enterprise would be a laborious, complex and potentially costly task. Now, the goal is to make the process simple and seamless.
The Alcatel-Lucent OmniAccess® Stellar WLAN solution addresses this goal, delivering hardworking Wi-Fi with a personal touch. It doesn't lock you into proprietary systems and it addresses the individual needs of your business. The OmniAccess Stellar WLAN portfolio offers a full range of access points including the latest Wi-Fi 6 technology. It embodies the transition currently underway in wireless networking and is designed with:
Performance: Controllerless, distributed intelligent architecture for better performance and high availability
User-centricity: Easy to connect to, excellent quality and secure user experience for employees and guests
IoT readiness: Provides unique IoT identification and secure IoT containment technology – so you can use and deploy your own IoT solutions with confidence
Analytics capability: Smart analytics monitor and control applications to help manage and drive strategic business decisions
Unified management: Native unified access for LAN and WLAN, with cloud enabled management that guarantees the best quality of service
Evolution: A future-proof solution built on the latest technologies, innovations and service
Security: Wi-Fi 6 is more secure than earlier Wi-Fi technologies, offering far better protection against hacking attacks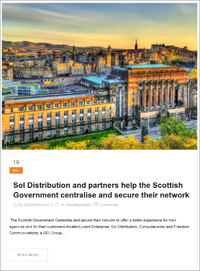 Read the Case Study: Sol Distribution and partners help the Scottish Government centralise and secure their network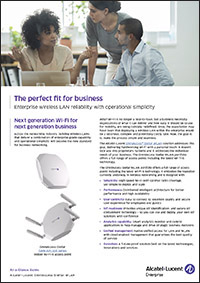 Download the at a glance guide: "The perfect fit for business" for a quick briefing on why you should choose the Alcatel-Lucent OmniAccess® Stellar Wireless LAN, showcasing a full range of Wi-Fi 6 and Wi-Fi 5 access points, excels at meeting this need.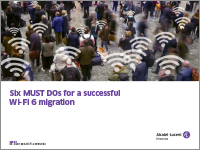 Read the eBook: "Six MUST DOs for a successful Wi-Fi 6 migration" to learn how the latest Wi-Fi 6 technology can help and how you can prepare for a successful migration
---
OmniAccess Stellar Location-Based Services (LBS)
The OmniAccess Stellar LBS suite offers three game-changing location features to empower your company, broaden your services, gain insightful analytics and help you make better decisions.
OmniAccess Stellar LBS provides more than just navigation inside airports, hospitals, hotels, and university campuses. It's the foundation of multiple innovative services such as:
Proximity marketing for restaurant and retail promotions
Automated information messages and emergency notifications
Smart parking
Finding points of interest with turn-by-turn directions
Location sharing
Staff mobilization and coordination
Additionally, OmniAccess Stellar LBS offers in-depth location analytics to better understand people flow, dwell time, area utilisation and concentration. Combining these exclusive features can help organisations improve processes, optimise customer engagement, and fine tune service delivery.
OmniAccess Stellar Asset Tracking
Asset tracking provides smart connection to assets, so you can locate equipment and people in real-time, optimising operations and reducing costs.
What is Asset Tracking?
Asset tracking identifies the location of equipment or people, in real-time, using tags with GPS, BLE or RFID technology to broadcast their location. And you can track more than just the whereabouts of your assets.  You can learn about equipment usage patterns and locations – even when it's not in use.
Asset tracking analytics provide information about how items are used, which departments use them the most, how often they get moved around the premises, how far they travel on a daily basis and even when the asset was last maintained. This information helps organisations optimise asset usage.
These analytics can reduce the cost of replacing, leasing and over purchasing equipment to ensure availability. Inventory lists can ensure that equipment is properly maintained and usage can be optimized based on the data provided. Geonotifications can provide alerts such as, when service on a piece of equipment is due, or when an asset is being removed from a building.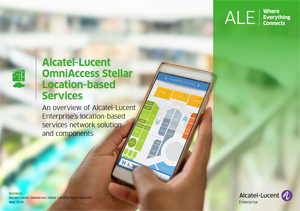 Read the brochure on ALE OmniAccess Stellar Location-Based Services (LBS).
---
WiFi 6 vs 5G
With the hype surrounding 5G LTE technology and Wi-Fi 6 launches, the question is will one technology win over the other, or can they coexist and even complement each other? The debate centers around whether each technology will merge into one or maintain their separate course as they have for many years.
Read the Whitepaper on "Mobility for Enterprise – why Wi-Fi is the right choice" to gain insights on how Wi-Fi compares to 5G.
Learn about:
5G pros and cons, its use cases and projected availability
Wi-Fi pros and cons, its use cases and the latest Wi-Fi 6 standard
ALE recommendations based on our comparative analysis
---
Want more information?
If you would like more information on this news story, or any of our products and services, please contact us by clicking the button below, or ring us on +44(0)1691 680 830.

Follow us on Social Media: