Core Infrastructure to Support Cloud Computing
---
Data Centre Solutions
With the increase in the uptake of cloud computing, and the ever rising demand of high-bandwidth applications such as streaming video, the demand for more data centres looks set to continue for the foreseeable future.
Whether you are planning to build a new data centre or to upgrade an existing one, you need to be sure that every component meets your specification and is the right combination of quality and value. We work with a number of specialist networking vendors in the data centre space who have equipment in some of the largest and most critical facilities around the world. Below is a selection of our vendor partners and what they can offer.
---

---
Data Centre Interconnect
ADVA's optical transport Metro solutions are engineered to support the growing demand for data centre connectivity using fibre connections between facilities. These solutions are the optical transport foundation for some of the largest carrier neutral providers and data centres in the world. Offering the lowest power consumption and smallest footprint in the industry, these flexible optical platforms meet the needs of diverse applications and scale to offer the highest performance and most cost-effective approach to data centre interconnect.
Battling the Data Crunch
Today's data center interconnect (DCI) networks are reaching a critical juncture. The phenomenal growth in internet traffic combined with the fierce migration to cloud-based services is forcing a dramatic rethink of how data centers are connected. Current DCI networks are proving to be bottlenecks and severely limiting growth. For internet content providers (ICPs) and cloud service providers to continue meeting quality of experience expectations, they need to build optimised DCI infrastructures that are scalable, efficient and secure. They need to harness next-generation hyperscale DCI architectures and utilise automation to scale bandwidth and connect businesses in real time.
FSP 3000 Cloud Connect™
ADVA's FSP 3000 Cloud Connect™ connects data centers with compact, power-efficient, high-speed optical transport. With its native scalability, FSP 3000 CloudConnect™ is future-proof, whether deployed as self-build solution using dark fibre or by purchasing a managed service.
This DCI technology combines with ADVA FSP Network Hypervisor for automated service provisioning and activation. This leads to capacity on demand and optimised resource utilisation – critical for ICPs and cloud service providers looking to leverage real-time connectivity and their SDN architecture. With its native scalability, FSP 3000 CloudConnect™ is also future-proof, whether deployed as self-build solution using dark fibre or by purchasing a managed service. It comprises a family of service aggregation and transport components, including multiplexing transponders for aggregating a wide range of client services onto higher-rate optical lines.
---
Application Note: Connectivity in a world of data centers
FSP 3000 Datasheet
Find out more about ADVA Optical Networking on our main page, by clicking [here]
---

---
Data Centre Switching & Management
Alcatel-Lucent helps enterprises address the challenges facing today's data centre network while delivering a high-quality user experience for real-time applications, greater agility in deploying new applications, easy adaptation to existing virtualisation infrastructures, seamless integration of public cloud services, and reduced data centre costs.
Alcatel-Lucent's breakthrough solution starts with a unique blueprint for application fluent data centre switching. This blueprint brings together innovations that together create an extremely scalable, high-performance, resilient and real-time intelligence.
---
Core Switches
A new generation of wire-rate 10GbE/40GbE core switches, with market leading port density and switching capacity, reduce the need for oversubscription and prepare your network for future growth. Low-latency, SDN-ready, high-capacity, modular Ethernet LAN switches, field-proven in enterprise, service provider and data centre environments. ALE offers a high density, multi-Terabit modular platform offering linear scaling, excellent redundancy, resiliency and high availability.
(Click the images to view datasheets)
---
Intelligent Fabric for Data Centre Networks
Intelligent Fabric (iFab) is the ALE solution for a high-performance, fully automated Data Centre architecture. A traditional Spine & Leaf architecture has some limitations. The ALE solution offers a POD and MESH network fabric architecture based on Shortest Path Bridging, an IEEE standard protocol which eliminates Spanning Tree Protocol (STP). It uses all links simultaneously, is extremely scalable and simplifies network configuration and management tremendously.

Brochure: Data Networking Products Foldout 
Find out more about Alcatel-Lucent Enterprise on our main page, by clicking [here]
---

---
High-Performance Servers
Sol Distribution can provide the full range of ASUS servers and workstations, which can be pre-configured to meet customers' needs and requirements. These servers deliver market-leading technologies and high levels of power saving and efficiency.
Core Competencies of ASUS Servers

Key Sectors
With their focus on high-performance, ASUS servers and workstations excel in nvironments such as Data Centre, High-Performance Computing & Articial Intelligence, Manufacturing, Cloud Gaming, Medical, Broadcasting & Analysis. ASUS has a number of high-profile end-users in these fields.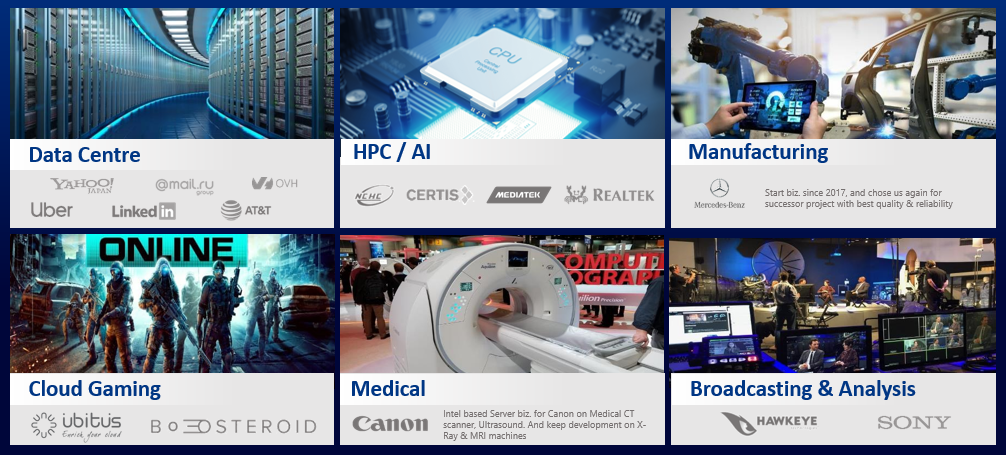 Find out more about ASUS Servers on our main page, by clicking [here]
---

---
---
Out-of-Band Networking
Improving Network Availability
Reliance on modern telecommunications networks is increasing every day. But many dangers exist that threaten network infrastructure, from fibre cuts, to temperature or moisture damage from harmful environmental conditions. What's more, today's networks face an unprecedented threat from malicious attacks. Network infrastructures composed of numerous types and classes of equipment, including switches, routers, storage devices and telephony equipment can be managed more effectively with an out-of-band networking solution.
Improving Efficiency, Reducing Costs, Increasing Network Up Time
Out-of-Band Networking solutions provide secure remote service port access, remote power management and environmental monitoring to devices in an organisation's networks and infrastructures.  An Out-of-Band Networking (OOBN) solution nearly eliminates the need for physical presence at a device to correct problems or manage its everyday operation. This mode of unmanned operation is also commonly referred to as Remote Management or Lights Out Management.
Applications and Benefits
The value of Out-of-Band Networking solution can benefit organisations of any size and type.  Improvements in efficiency for small businesses, large enterprises, service providers and carriers can all be realized by implementing an Out-of-Band solution.  Any infrastructure comprised of numerous types and classes of equipment including switches, routers, storage devices, and telephony equipment can be managed more effectively with an Out-of-Band Networking solution.
Reducing Costs
Since Out-of-Band Networks can nearly eliminate the need for administrative personnel to be physically present at a device, personnel can be reduced and centralized, resulting in significant cost savings.  The cost of downtime is also reduced since devices can be brought back online quickly without the delays of dispatching personnel to device locations.  Vehicles, fuel, tools, and labor costs are all greatly reduced all while ensuring Service Level Agreement (SLA) exposure is reduced as well.
Lantronix SLC 8000 – Product Brief
Find out more about Lantronix on our main page, by clicking [here]
---

---
Performance and Threat Visibility
Wondering how to baseline and monitor network performance? Too many fingers pointed at network teams and too little time to read and get ahead of complaints, logs, and reports can be a source of ongoing frustration. The greatest network performance monitoring challenge is knowing where to begin searching for the true source of issues. Decentralized networks, the IoT, SD-WAN, and the complex topology of SaaS cloud solutions have only added to this dilemma.
Need to optimise network performance? In today's remote working environment, many IT departments have only limited access to remote users and their endpoints. The need for comprehensive infrastructure monitoring and deep insight into the remote end-user experience has never been greater.
The network performance monitoring system, or NPM tools, from VIAVI proactively identify the most serious network issues. IT teams are pointed to solutions through advanced end-user experience scoring, logical diagnostics, and intuitive out-of-the-box workflows. All Observer 3D intelligence can be backed by complete, unaltered packet and flow data, providing the granularity needed to support cybersecurity investigations. VIAVI NPM solutions empower IT teams to dive in quickly, triage network performance issues, and drive intervention before a blackout can occur.
Network Performance Monitoring with Observer 3D and GigaStor
With the introduction of Observer 3D, full-fidelity packet data, flow visibility, and active test insights are bolstered by patented VIAVI end user experience scoring. Over 30 network KPIs are intelligently analyzed through machine-learning driven algorithms to produce improved issue identification and prioritization. Observer 3D uses predictive analytics to optimize network performance monitoring in any hosting environment. This includes public and private cloud, SaaS applications, remote user locations, and on-premises data centers.
With Observer GigaStor, VIAVI delivers the fastest independently validated wire data capture stream-to-disk (S2D) speeds at 60 Gbps in one easy to install appliance, allowing you to scale with the demands of today's increasingly connected world. GigaStor provides a treasure trove of back-in-time packet data insights along with valuable end-user scoring input to support the Observer 3D platform with every network conversation.
eBook: Network Monitoring Technology – Achieving IT Operational Excellence
Find out more about VIAVI Solutions on our main page, by clicking [here]
---
Want more information?
If you would like more information on any of our products and services, please contact us by clicking the button below, or ring us on +44(0)1691 680 830.

Follow us on Social Media: