Core infrastructure to support cloud computing
Data Centre Solutions
With the increase in the uptake of cloud computing, and the ever rising demand of high-bandwidth applications such as streaming video, the demand for more data centres looks set to continue for the foreseeable future.
Whether you are planning to build a new data centre or to upgrade an existing one, you need to be sure that every component meets your specification and is the right combination of quality and value. We work with a number of specialist networking vendors in the data centre space who have equipment in some of the largest and most critical facilities around the world. Below is a selection of our vendor partners and what they can offer.
Alcatel-Lucent Enterprise
Data Centre Switching & Management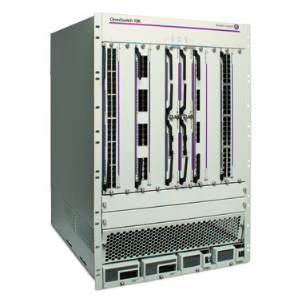 Alcatel-Lucent helps enterprises address the challenges facing today's data centre network while delivering a high-quality user experience for real-time applications, greater agility in deploying new applications, easy adaptation to existing virtualization infrastructures, seamless integration of public cloud services, and reduced data centre costs.
Alcatel-Lucent's breakthrough solution starts with a unique blueprint for application fluent data centre switching. This blueprint brings together innovations that together create an extremely scalable, high-performance, resilient and real-time intelligence.
A Complete Solution for the Data Centre Network
Alcatel-Lucent Enterprise's complete solution for data centre networking includes the Pod/Mesh Technology, Programmability, WAN Connect and Management stacks, as well as Analytics as shown in Figure 4. The mesh, includes Alcatel-Lucent's market leading OmniSwitch™ 10K Modular LAN Chassis, the OmniSwitch 6900 and the OmniSwitch 6860E. It can scale linearly, both in architecture and in pricing model, to connect from under 100 to over 10,000 servers. And it delivers all the new requirements of virtualized workloads:
Performance: Low latency, 10 and 40 GigE multipath connectivity
Automation: The network automatically adjusts as a virtual machine is moved within and between data centre sites
Scalability: Pay-as-you-grow business model and direct connect architecture, which enables cost-effective small to very large deployments with no rip and replace requirement
Converged Management: Visibility and performance tools that link application level views with network topology for improved troubleshooting capabilities enabled for SDN with a strong vision enabled by standards-based RESTful Application Programming Interfaces (APIs) for participation in open SDN ecosystems
Storage Convergence: Enables storage model of choice for customers (iSCSI, FCoE, Fibre Channel)
The management stack includes the OmniVista 2500 NMS for full network management and OmniVista 2500 Virtual Machine Manager (VMM) for fabric management. The Alcatel-Lucent solution also provides IP interconnect of data centre sites. The service routers provide MPLS connectivity allowing the seamless extension of Layer 2 domains between data centre sites.
Brochure: ALE Data Centre Switching Solution 
Brochure: Data Networking Products Foldout 
ADVA Optical Networking
Data Centre Interconnect & Out-of-Band Networking
Deliver a Cost Effective and Scalable Solution for Data Centre Interconnect
ADVA's optical transport Metro solutions are engineered to support the growing demand for data centre connectivity using fibre connections between facilities. These solutions are the optical transport foundation for some of the largest carrier neutral providers and data centres in the world. Offering the lowest power consumption and smallest footprint in the industry, these flexible optical platforms meet the needs of diverse applications and scale to offer the highest performance and most cost-effective approach to data centre interconnect.
Battling the Data Crunch
Today's data center interconnect (DCI) networks are reaching a critical juncture. The phenomenal growth in internet traffic combined with the fierce migration to cloud-based services is forcing a dramatic rethink of how data centers are connected. Current DCI networks are proving to be bottlenecks and severely limiting growth. For internet content providers (ICPs) and cloud service providers to continue meeting quality of experience expectations, they need to build optimized DCI infrastructures that are scalable, efficient and secure. They need to harness next-generation hyperscale DCI architectures and utilize automation to scale bandwidth and connect businesses in real time.
FSP 3000 Cloud Connect™
ADVA's FSP 3000 Cloud Connect™ connects data centers with compact, power-efficient, high-speed optical transport. With its native scalability, FSP 3000 CloudConnect™ is future-proof, whether deployed as self-build solution using dark fibre or by purchasing a managed service.
This DCI technology combines with ADVA FSP Network Hypervisor for automated service provisioning and activation. This leads to capacity on demand and optimised resource utilisation – critical for ICPs and cloud service providers looking to leverage real-time connectivity and their SDN architecture. With its native scalability, FSP 3000 CloudConnect™ is also future-proof, whether deployed as self-build solution using dark fibre or by purchasing a managed service. It comprises a family of service aggregation and transport components, including multiplexing transponders for aggregating a wide range of client services onto higher-rate optical lines.
FSP 3000 Cloud Connect Datasheet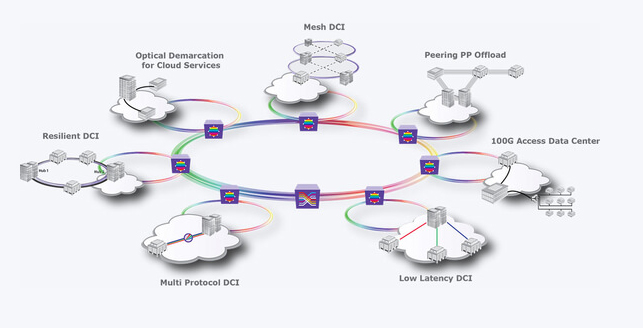 ADVA LX Series Console Servers
Out-of-Band Networking
Improving network availability
Reliance on modern telecommunications networks is increasing every day. But many dangers exist that threaten network infrastructure, from fibre cuts, to temperature or moisture damage from harmful environmental conditions. What's more, today's networks face an unprecedented threat from malicious attacks. Network infrastructures composed of numerous types and classes of equipment, including switches, routers, storage devices and telephony equipment can be managed more effectively with an out-of-band networking solution.
Improving Efficiency, Reducing Costs, Increasing Network Up Time
Out-of-Band Networking solutions provide secure remote service port access, remote power management and environmental monitoring to devices in an organisation's networks and infrastructures.  An Out-of-Band Networking (OOBN) solution nearly eliminates the need for physical presence at a device to correct problems or manage its everyday operation. This mode of unmanned operation is also commonly referred to as Remote Management or Lights Out Management.
Applications and Benefits
The value of Out-of-Band Networking solution can benefit organizations of any size and type.  Improvements in efficiency for small businesses, large enterprises, service providers and carriers can all be realized by implementing an Out-of-Band solution.  Any infrastructure comprised of numerous types and classes of equipment including switches, routers, storage devices, and telephony equipment can be managed more effectively with an Out-of-Band Networking solution.
Reducing Costs
Since Out-of-Band Networks can nearly eliminate the need for administrative personnel to be physically present at a device, personnel can be reduced and centralized, resulting in significant cost savings.  The cost of downtime is also reduced since devices can be brought back online quickly without the delays of dispatching personnel to device locations.  Vehicles, fuel, tools, and labor costs are all greatly reduced all while ensuring Service Level Agreement (SLA) exposure is reduced as well.
LX Series Datasheet 
Viavi Solutions

Observer Gigastor
Data Centre Optimisation
As cloud providers build out their data center infrastructure, they will need to fully-validate service performance with an eye toward providing outstanding end-user experience, while achieving operational efficiency.
Rising Costs
As application complexity continues to increase, deployment model options (hybrid, co-located, and others) drive more potential variability in terms of latency, bandwidth, and underlying infrastructure support. As this occurs, providers must maintain outstanding service delivery, while minimizing the ongoing operational costs associated with running and managing IT resources. In-depth monitoring and inherent increased visibility can help to reduce these costs.
Proactive Monitoring
The core capabilities of the Viavi data centre optimisation solution address fundamental challenges, such as application complexity, security concerns, and issues unique to cloud providers. In-depth application awareness with detailed response times and deep packet inspection into application error, reason, and condition codes can help ensure higher levels of end-user satisfaction.
The Viavi data centre optimisation solution provides:
Outstanding VoIP and video intelligence with the most comprehensive vendor support
Back-in-time awareness with Observer GigaStor with added SNORT rule and signature detection via advanced filtering to strengthen real-time IT security measures
High-level dashboards with real-time and long-term reporting in an easy-to-use browser interface
Baselining to quickly visualize unusual behavior even within the most dynamic environments
Application dependency mapping to detect service bottlenecks and resolve the root-cause issue
Expert analytics aids teams in quantifying WAN connectivity issues, in particular in the ability to view TCP behavior and status
High-speed packet capture with support to 40G in a number of flexible form factors
Strong virtualization visibility with support for both server and network abstractions
The ability to poll underlying resources to measure the health of supporting infrastructure
Brochure: Viavi Observer Gigastor 
Want more information?
If you would like more information on any of our products and services, please contact us by clicking the button below, or ring us on +44 (0) 1691 680 830.