Alcatel-Lucent Enterprise is a leading provider of enterprise communications solutions and services, from the office to the cloud. Building on an established heritage of innovation and entrepreneurial spirit, ALE operates globally with 2700+ employees in 100+ countries worldwide, with headquarters near Paris, France. ALE also has offices in every major country in Europe, the US, as well as across the Middle East and Asia-Pacific regions.
With networking, communications, and cloud solutions for business of all sizes, ALE has a team of technology experts, service professionals, and 2900+ partners serving more than 830,000 customers worldwide, tailoring and adapting solutions and services to local requirements.
---
---
Book a Consultation or Demo
---
Alcatel-Lucent Enterprise networking solutions offer market-leading performance and security, at a lower cost than other leading networking vendors. This means lower costs for end-user, and bigger margins for resellers.

ALE's competitive pricing and low TCO for market-leading technical features and product quality, should be interesting for UK organisations facing budget constraints this year, and into the future. ALE have extensive case studies in government, healthcare and education, and Sol Distribution have UK stock available for next day shipping.
Click the button below to book a technical consultation or online demo with one of our ALE Certified Engineers. Proof-of-concept units are also available for evaluation.

---
LAN Switching
---
ALE manufacturers an extensive range of fixed, chassis-based, and hardened switches, to provide flexible, enterprise-grade solutions from the access, to the distribution and core. ALE and Sol Distribution have worked on several large-scale LAN and WLAN deployments across the UK with an number of different resellers and systems integrators, and have the experience needed to help our partners win these projects and deliver them successully.
---
Access/Edge Switches
---
Alcatel-Lucent Enterprise provides a complete set of stackable LAN access switches with market-leading resiliency, embedded security, and dynamic network performance tuning for real time application delivery.
(Click the images to view datasheets)
---
Ruggedised Switches
---
ALE's hardened ethernet range offers a range of DIN rail and 19" rack mountable fanless switches that can be deployed and operate reliably in harsh environments and can withstand electromagnetic fields, high vibrations, dust/dirt and high humidity. These switches are ideal for a wide variety of Industrial applications such as Intelligent Transportation, Rail, Smart Cities and Utilities.
(Click the images to view datasheets)
---
Core Switches
---
A new generation of wire-rate 10GbE/40GbE core switches, with market leading port density and switching capacity, reduce the need for oversubscription and prepare your network for future growth. Low-latency, SDN-ready, high-capacity, modular Ethernet LAN switches, field-proven in enterprise, service provider and data centre environments. ALE offers a high density, multi-Terabit modular platform offering linear scaling, excellent redundancy, resiliency and high availability.
(Click the images to view datasheets)
---
Intelligent Fabric for Data Centre Networks
---
Intelligent Fabric (iFab) is the ALE solution for a high-performance, fully automated Data Centre architecture. A traditional Spine & Leaf architecture has some limitations. The ALE solution offers a POD and MESH network fabric architecture based on Shortest Path Bridging, an IEEE standard protocol which eliminates Spanning Tree Protocol (STP). It uses all links simultaneously, is extremely scalable and simplifies network configuration and management tremendously.

---
Wireless LAN
---
ALE can provide a wide variety of indoor and outdoor access points including Wi-Fi 6 (802.11ax) and Wi-Fi 5 (802.11ac) technologies support versatile deployments in any size network.
Controllerless Architecture
ALE WLAN products do not use controllers, they use a distributed intelligence model, where the tasks that would have been performed by the controller are distributed across the access points, and if one goes down, they can intelligently reroute traffic to maintain coverage. This architecture can support up to 4,000 APs in a single deployment (10,000 by the end of 2020)
Advantages of ALE WLAN Architecture:
  No single point of failure

  No Bottlenecks

  Simple deployment

  Improved security, resiliency, performance

  Simplified operations, low TCO
ALE Stellar WiFi 6 Brochure
---
OmniAccess Stellar WiFi
---
(Click the images to view datasheets)
---
Location-Based Services (LBS) and Asset Tracking
---
The OmniAccess Stellar LBS suite offers three game-changing location features to empower your company, broaden your services, gain insightful analytics and help you make better decisions.
OmniAccess Stellar LBS provides more than just navigation inside airports, hospitals, hotels, and university campuses. It's the foundation of multiple innovative services such as:
  Proximity marketing for restaurant and retail promotions
  Automated information messages and emergency notifications
  Smart parking
  Location sharing
  Finding points of interest with turn-by-turn directions
  Staff mobilisation and coordination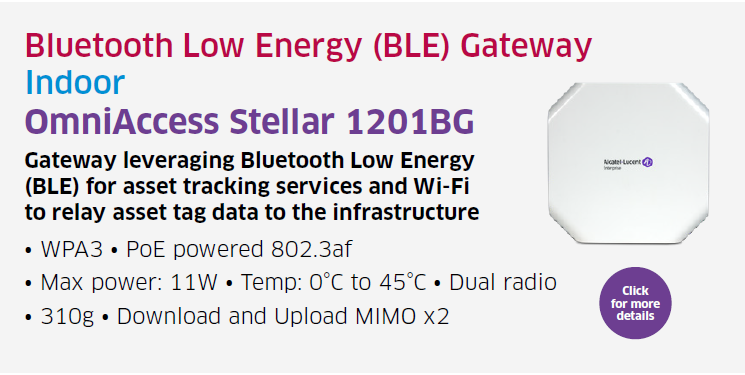 Additionally, OmniAccess Stellar LBS offers in-depth location analytics to better understand people flow, dwell time, area utilization and concentration. Combining these exclusive features can help organizations improve processes, optimize customer engagement, and fine tune service delivery.
Read More: Increase Customer Engagement with Location-Based Services from Alcatel-Lucent Enterprise
ALE Location-Based Services Brochure
---
Asset Tracking
Asset tracking identifies the location of equipment or people, in real-time, using tags with GPS, BLE or RFID technology to broadcast their location. And you can track more than just the whereabouts of your assets.  You can learn about equipment usage patterns and locations – even when it's not in use.
Asset tracking analytics provide information about how items are used, which departments use them the most, how often they get moved around the premises, how far they travel on a daily basis and even when the asset was last maintained. This information helps organisation optimise asset usage.
Alcatel-Lucent OmniAccess Stellar Asset Tracking for Enterprise
Alcatel-Lucent OmniAccess Stellar Asset Tracking in Healthcare
---
Comprehensive Unified Management
---
ALE OmniVista offers a "single pane of glass" management solution for both LAN & WLAN. This single platform enables operators to easily provision, manage and maintain all network elements, with alarms, unified security policies, and virtualisation. It also provides advanced network analytics for a full visibility into both wired and wireless devices, IoT endpoints and applications, as well as predictive analysis for forward planning.

---
Network as a Service (NaaS)
---
Network as a Service (NaaS) is the perfect answer for companies looking for a network infrastructure that can be deployed quickly and scaled instantly according to their business needs.
Available to all types and sizes of businesses, NaaS by ALE is ideal for customers that are deploying or upgrading to new technology, building out greenfield sites or looking to outsource day-to-day network management.
With NaaS, network spending shifts to an OpEx model where the company pays a per month fee for the network. This creates a flatter, consistent spending pattern that is easier to budget for. Instead of trying to squeeze every last packet out of a switch, businesses could upgrade the product at every contract cycle ensuring the company always has current technology
Read more about Network as a Service here:
Network as a Service by Alcatel-Lucent Enterprise Brochure
---
Proactive Lifecycle Management (PALM)
---
Check the status of all your ALE network switching products, warranties and service contracts at a glance.
  In its easy-to-use online dashboard, Alcatel-Lucent ProActive Lifecycle Management (PALM) displays essential lifecycle information for Alcatel-Lucent Enterprise Wi-Fi and LAN switching products.
  PALM makes it easier than ever to keep track of your network health with real-time charts on device capacity, release notes and more, all within a couple of clicks. Low effort, low cost – but high value for your busy IT team.
  This cloud-based application complements the Alcatel-Lucent OmniVista 2500 Network Management System (NMS) for unprecedented visibility into the status of your switches, operating systems and contracts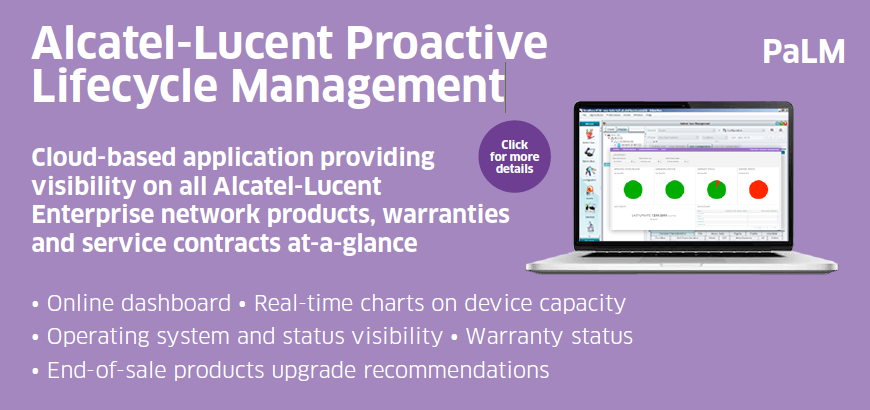 ALE Proactive Lifecycle Management
---
Want more information?
If you would like more information on any of our products and services, please contact us by clicking the button below, or ring us on +44(0)1691 680 830.

Follow us on Social Media: