Supporting the integration of new technologies for enterprise
Sol Distribution can provide a number of solutions for the Enterprise sector; in fact this is the sector that the company has traditionally sold its products into before expanding into other, more specialist markets. Enterprises today face a rapidly shifting technology landscape, where bringing your own device (BYOD) is expected by employees, whilst the strongest data security is expected by the board coming to terms with more stringent data regulations like the General Data Protection Regulation (GDPR).
IT departments need to be flexible and innovative, and picking the best component or platform and being able to do so with complete freedom and flexibility is absolutely necessary if an enterprise is to remain competitive. With this in mind, Sol Distribution works with some of the most innovative vendors in today's IT marketplace to provide our reseller partners products and services to differentiate their offering from the competition.
Alcatel Lucent Enterprise
LAN Infrastructure
For small- and medium-sized businesses (SMBs) as well as medium- and large-sized enterprises, Alcatel-Lucent Enterprise (ALE) provides exceptional value in highly available, secure and easy-to manage IP networks with a comprehensive, standards-based product portfolio.
ALE can provide manageable layer 2/layer 3 LAN switches, both stackable and chassis-based, supporting power over Ethernet (PoE) and interface speeds from 100 Mb/s up to 40 Gb/s for office, campus and data centre networks.
WLAN Infrastructure
ALE can provide a highly scalable, wireless LAN (WLAN) solution that supports the latest high-speed (IEEE 802.11n and 802.11ac) access for small, medium and large networks, as well as unique remote worker feature. Enterprise services routers enabling WAN access while providing a wealth of services from a single box.
ALE's Unified Access technology provides a common set of services for a seamless user experience across the wired and wireless LAN products, with simplified management and a full suite of BYOD services.
Brochure: ALE Data Networking Products Fold-Out 

Rainbow
Alcatel-Lucent Rainbow™ is a cloud-based, enterprise-grade, Communication Platform (CPaaS) that connects people and systems. It creates an integrated and innovative cloud-based collaborative workspace for business users and their contacts.
The service offers contact management, presence, persistent messaging, audio/video calls, screen and file sharing. Rainbow is available for desktops and smart-phones, and is free to try.
Visit www.openrainbow.com website and try out Rainbow for free!
Alcatel Lucent Enterprise Rainbow Benefits
User efficiency – Contacts, chat, call/video, file/screen share, mobility, borderless communication
IT consistency – Infrastructure-agnostic, common address-book, integration with existing PBX (Alcatel-Lucent Enterprise and non-ALE PBXs)
Process optimisation – Openness & APIs to integrate with business processes and in-house apps
Customer productivity – Integration of customers in end-to-end enterprise processes (BtoBtoC)
Transition Networks
Fibre integration
The challenge for many IT managers is to get their network to do more, for more users, for less. As a result, new technologies may have outpaced existing cabling infrastructures. This could mean an expensive wholesale upgrade of copper cabling to fibre, which for many businesses is impractical.
Another solution is to use Transition Networks solutions to migrate to a fibre-based cabling system at a fraction of the cost. Transition Networks solutions can link new fibre cabling with legacy copper-based network devices – including RJ-45 based switches, routers, and NICs – to greatly reduce the expense of a fibre upgrade while improving bandwidth, distance and security throughout the enterprise.
Brochure: Transition Networks Enterprise Brochure 
Viavi Solutions
Performance Management
IT service delivery is critical to business success. With an influx of emerging technologies and the rapid rate of change, network managers need end-to-end insight and complete visibility from the physical infrastructure and storage to the network and newest applications.
Using proprietary packet capture technology, the Viavi performance management solution offers the ability to mine network data and apply deep packet analytics to optimise resources in real time. This powerful toolset features fast capture rates and over a petabyte of storage capacity. This means you can immediately apply insights for predictive planning, issue prevention, troubleshooting, problem resolution, and network fine-tuning.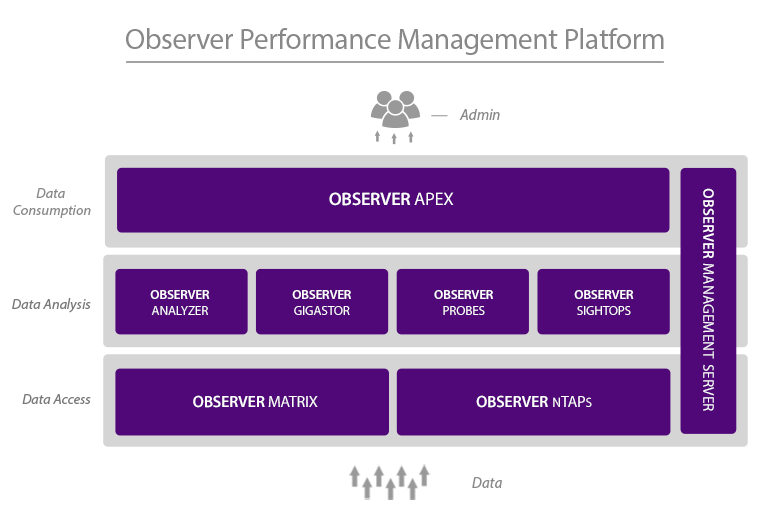 Test and monitor the interconnections between data centres and branch offices to help ensure the WAN connections do not become bottlenecks. The Viavi performance management solution can assist in determining whether your WAN provider may be impacting performance.
Distributed analysis keeps data cruising with 360° network visibility and provides access from high-level health views to individual data packets. You also get insight into latency-sensitive applications – plus advanced troubleshooting muscle with predictive analysis for managing distributed networks, increased bandwidth demands, and more.
What network teams need most is instant access to comprehensive network health and monitoring from the physical to the application layer. Viavi's enterprise performance management solution provides comprehensive insight into network, storage, applications, and infrastructure.
Help ensure your network environment is fully optimised with real-time and historical summary dashboards, traffic flow analytics, utilisation metrics, and a snapshot of your delivery system. Maximise the lifetime value of your network infrastructure by following best practices and certifying the construction to industry standards.
Brochure: Viavi Observer Platform Overview 
Want more information?
If you would like more information on any of our products and services, please contact us by clicking the button below, or ring us on +44 (0) 1691 680 830.