Based in San Mateo, California, USA, Axis Security enables any organisation to quickly deliver tightly managed global access to employees, partners, and other stakeholders through a purpose-built zero-trust cloud security platform. Axis helps IT leaders enable their employees, partners, and customers to securely access business data and applications – without the pitfalls of network-centric solutions or cloud only answers. With 350 cloud service edges across the world, Axis believes that the sooner IT adopts zero trust, the sooner we can witness a world where the exchange of information is always fast, seamless and secure.
Axis sits inline between the user and the app, no matter where it is, inspecting all traffic, brokering surgical, one-to-one connections based on identity and policy, and performing vital end user experience monitoring to track connections hop-by-hop and empower IT to pinpoint issues.
---
Atmos Platform
---
Your team's favorite security service edge (SSE) platform.
Designed to make access simple
Short for "Atmosphere," Atmos is the first SSE platform to elegantly integrate ZTNA, SWG, CASB and Digital Experience into a single, easy to use, interface. The Atmos Platform includes all of the following elements:
  Atmos ZTNA – Zero trust access to private apps

  Atmos "Air" – Agentless access for BYOD and third-parties

  Atmos Private Inspect – View user activity and block malicious activity

  Atmos Server – Ensure servers safely communicate with other servers

  Atmos Web Gateway – Zero trust access to Internet & SaaS

  Atmos Cloud DLP – Protect sensitive data from leaking out to the Internet

  Atmos CASB – Protect data, meet compliance needs, and discover Shadow IT SaaS apps

  Atmos Advanced DLP – Use AI to receive alerts, auto-detect, and classify data

  Atmos Dashboard – Manage all users, apps, servers and devices from a single pane of glass

  Atmos Discovery – Shine light on unsanctioned private apps and reduce the attack surface

  Atmos Experience – Monitor performance of devices, apps, and networks for the best experience

  Atmos Insights – Visibility into each user's activities, detect, view, and respond faster
---
How it works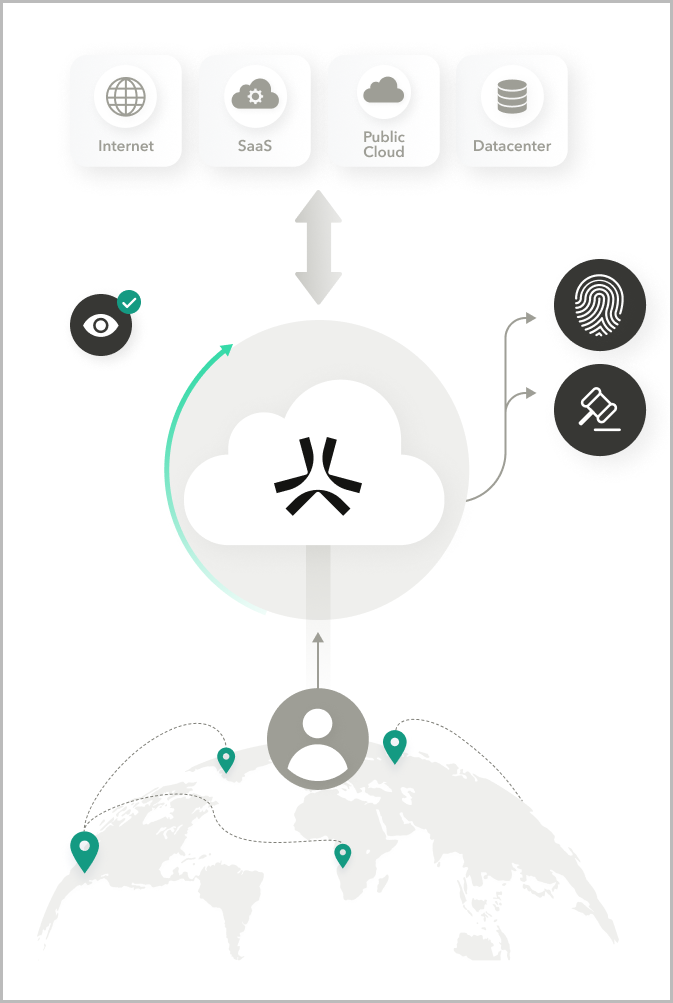 1 – A user attempts to access a business app
Secure access to major apps – even VOIP and ICMP – and support client or clientless access
2 – Atmos mediates the request
Avoid passthrough connections that can lead to risk – Axis becomes the first stop
3 – Atmos validates identity & policy
Adopt zero trust access and automatically adapt access rights based on changes in context (device posture, location etc.)
4 – Atmos securely connects to resource
Make private apps invisible to the Internet, keep users off the network, and deliver a safer connection to SaaS apps
5 – Atmos inspects traffic & monitors user experience
Get visibility into user activity so you're aware of malicious activity, and ensure user experience is always great
---
Features
---
  Multi-cloud backbone for scale
100% cloud-delivered with over 350 PoPs running on AWS, Google and Oracle. This ensures less latency, more redundancy and faster disaster recovery than any other SSE platform
  One interface for all
Atmos provides a single interface to manage all your policies, apps, devices, users, data, and more.
  Unmatched visibility
Atmos inspection traffic to provide visibility into per user access across both internal and external apps so IT can prevent data leakage.
  Universal access to all apps
Atmos is the only service that supports all ports and protocols, even VOIP, ICMP, AS400 apps, and RDP, SSH, Git and DG via agentless web browsing – plus common SaaS apps and Internet protocols.
  Auto-adaptive trust
Integrations with identity and endpoint security solutions enable context sharing across cloud services. If changes in identity or device health are detected, the Atmos access policies automatically adapt.
---
---
Further Reading
---

  Brochure: Atmos at a Glance
---
Want more information?
If you would like more information on any of our products and services, please contact us by clicking the button below, or ring us on +44(0)1691 680 830.

Follow us on Social Media: