Preparing the citizens of tomorrow
Education is one of the cornerstones of our society. In order to prepare today's students to become the employees and citizens of tomorrow's technological world, they must have access to state-of-the-art technology in their educational institutions.
Information and communications technology (ICT) has transformed the way people work, learn and collaborate, so today's educational campus networks must be robust enough and secure enough to enable today's students to have access to the latest systems for  the current education system to remain relevant  to our rapidly evolving world.
Sol Distribution can provide a number of solutions which could benefit resellers with end users in the Education Sector:
Alcatel-Lucent Enterprise
Secure and Converged Campus
With increased cuts to funding and budgets, educational institutions are faced with the challenge of balancing the need to control cost while attracting and retaining students/professors with next generation applications. By leveraging today's communication networks, further and higher education institutions can improve the teaching and learning experience and boost staff and faculty productivity.
A converged network from Alcatel-Lucent Enterprise combines voice, data and video on one single network. A secure and reliable backbone is created for new IP-based services, while leveraging the existing infrastructure and significantly reducing telecommunications expenses.
Features of Secure and Converged Campus Networks
Fixed or mobile network infrastructure: Implement a secure IP foundation that unites voice, video, data and mobility applications.
Network management: Use a centralized management system to monitor network activity, troubleshoot and maintain continuous communication across the network.
Secure network access: Provide full visibility and control of network activity, protection of network assets and critical data. Identify and contain threats by implementing role-based access.
Secure and Converged Campus Products
Data Networks: OmniSwitch Switching Products
WLAN: Alcatel-Lucent Wireless LAN
System Management: OmniVista , Air Manager
Voice/Collaboration: OmniPCX Enterprise, OpenTouch Business Edition, OpenTouch Multimedia Services, OpenTouch Customer Service, OpenTouch Conference, OpenTouch Session Border Controller
Case Study: ALE Education Success Stories Compilation 
Brochure: ALE Converged Campus Network Solution 
News Story: County's biggest 4-year university expels Cisco, saves $100m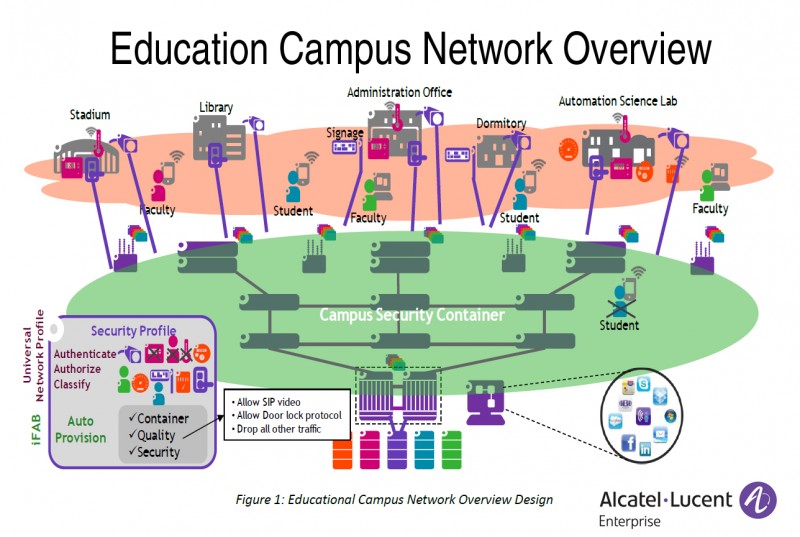 Network On Demand
One of the challenges of educational institutions is that their networks are not in full use all year round. Because of this education is a good fit for pay-per-use or subscription models that allow them to dial IT assets up and down as conditions change. Usage at schools and collages tends to drop dramatically on weekends and holidays, times when owning and operating private cloud hardware can represent an unnecessary financial drain.
These institutions require a LAN and Wi-Fi network infrastructure that provides access to applications, voice and video communications and more.  Yet the investment and operational effort required to keep these systems running all year round can make the investment impractical.
With Alcatel-Lucent Network on Demand service, education establishments can obtain their network infrastructure as a managed service and benefit from:
Paying only for what they use; no capital investment is required
Minimising paying for unused infrastructure during times of low network traffic
Refocussing IT staff on business applications and communications
Alcatel-Lucent Network on Demand service provides an on premises LAN backbone, LAN and Wi-Fi access as well as comprehensive management and reporting services. This service is available through the managed services offers of our resellers. Backed by Alcatel-Lucent Enterprise, these resellers deploy, integrate and operate the network infrastructure based on the desired service levels.
Brochure: ALE Network On Demand Customer Brochure 

Transition Networks
Fibre to the Desk (FTTD)
Combining the ever-growing need for device bandwidth with the need for secure data sharing and it's clear that Fibre-to-the-Desk (FTTD) is the solution to deliver both bandwidth and security all the way to the desk. Transition Networks offers solutions to integrate fibre into existing network infrastructure, or interface existing devices into a fibre network.
Fibre to the desktop is not only more secure than copper cabling; it can also generate higher signal quality while supporting higher speeds, and feature-rich applications. Transition Networks offers a complete portfolio of fibre network interface cards for PCs and laptops, as well as the  innovative Scorpion-USB™ fibre adapters.
Transition Networks fibre-to-the-desktop solutions, were utilised in a complete renovation of the LAN systems at the National University Corporation Gunma University's Aramaki Campus. Read more below.
Case Study: Gunma University Fibre-to-the-Desk 
White Paper: Transition Networks Fibre to the Desk Solutions 
Want more information?
If you would like more information on any of our products and services, please contact us by clicking the button below, or ring us on +44 (0) 1691 680 830.