CertaUPS is a global provider of uninterruptible power supplies
CertaUPS is an internationally acclaimed Uninterruptible Power Supply (UPS) manufacturer. It is committed to supporting the channel with industry leading UPS systems, technical critical power support and warranties, which it offers through its global network of partners.
---
Drawing on over 20 years of industry experience, CertaUPS has an unparalleled knowledge of the emergency power market. Certa are committed to always being ahead of the curve in terms of power protection technologies, which allows the company to deliver leading edge solutions for a wide range of industry sectors including healthcare, retail, councils, IT, telecoms and data centres, including all of the following organisations:
| | | | | |
| --- | --- | --- | --- | --- |
|   ADT | |   DHL | |   Liebert |
|   AEG | |   E.ON | |   Marks & Spencer |
|   AT&T | |   Ericsson | |   Morrisons |
|   Avaya | |   G4S | |   NEC |
|   Bank of England | |   HP | |   NHS |
|   BBC | |   JCB | |   O2 |
|   Belkin | |   Kendall Howard | |   Panasonic |
|   BT | |   Lidl | |   Samsung |
| | | | |   Siemans |
---
Products
---

Single Phase
  Line interactive and online double conversion, 800VA TO 20kVA

  Key applications: Small office networks, EPOS, CCTV, IT severs and networks and small data centre environments.
CertaUPS single phase backup power solutions have been designed exclusively to deliver industry leading resilience. Known worldwide for their cutting edge technology and superior component structure, single phase CertaUPS power protection systems deliver on reliability, flexibility and affordability. View Products

Three Phase
  Online double conversion, 10kVA – 30kVA

  Key applications: Server rooms, data centres and industrial.
Designed and engineered to the highest quality and performance standards CertaUPS three phase backup power systems deliver leading edge efficiency. They come with a considerably smaller footprint than other comparable three phase UPS systems on the market. The CertaUPS three phase C800 delivers the very latest topologies and impressive high efficiency.View Products
---
Sectors
---
CertaUPS systems are ideal for a wide range of applications. CertsUPS's extensive range of backup power systems currently support numerous IT installations, IP based telecoms systems, operating theatres and 24/7 security environments.
For businesses that rely on IT and telecoms. For small to medium size business any power disturbance such as power grid fluctuations and complete outages affect commercial offices just as much as they impact large corporate centres. The CertaUPS range of single phase UPS solutions are ideal for small business applications, EPOS, CCTV, cloud based computing and general office equipment. CertaUPS has focused on ensuring it offers lowest cost of ownership coupled with leading class reliability, usability and manageability.
Commercial applications supported by CertaUPS backup power:

  Server Racks

  Switchgear

  PC Stations

  Photocopiers
Demand for technology has never been greater.It is central to all modern business communication and any loss in power could cause costly downtime and damage expensive IT equipment. Reliable, unfailing power to network and sever rooms is more critical than ever. Thousands rely on CertaUPS. CertaUPS power protection solutions not only provide essential backup power in the event of a mains failure but also ensure even supply when utility power is prone to fluctuations.
IT Applications supported by CertaUPS backup power:
Server

  Lighting

  Fire supression

  Air Conditioning

  Switchgear
Providing emergency power for the healthcare market carries a responsibility over and above commercial and operational concerns. Patient outcome, recovery and comfort are paramount considerations. Therefore, it is also vital that the medical UPS systems and batteries all adhere to very specific regulations and are fully compliant in such critical environments.
Medical applications supported by CertaUPS backup power:

  IPS (Isolated Power Supply)

  Ventilation

  Operating Theatre Instrumentation

  Lighting

  Monitoring Equipment
---
Product Comparison Tables CertaUPS vs APC vs Eaton
Comparison table – CertaUPS C60-800 vs APC BX800CI
Comparison table – CertaUPS C400R-030-B vs APC SMT3000RM12UC vs Eaton 9SX3000IR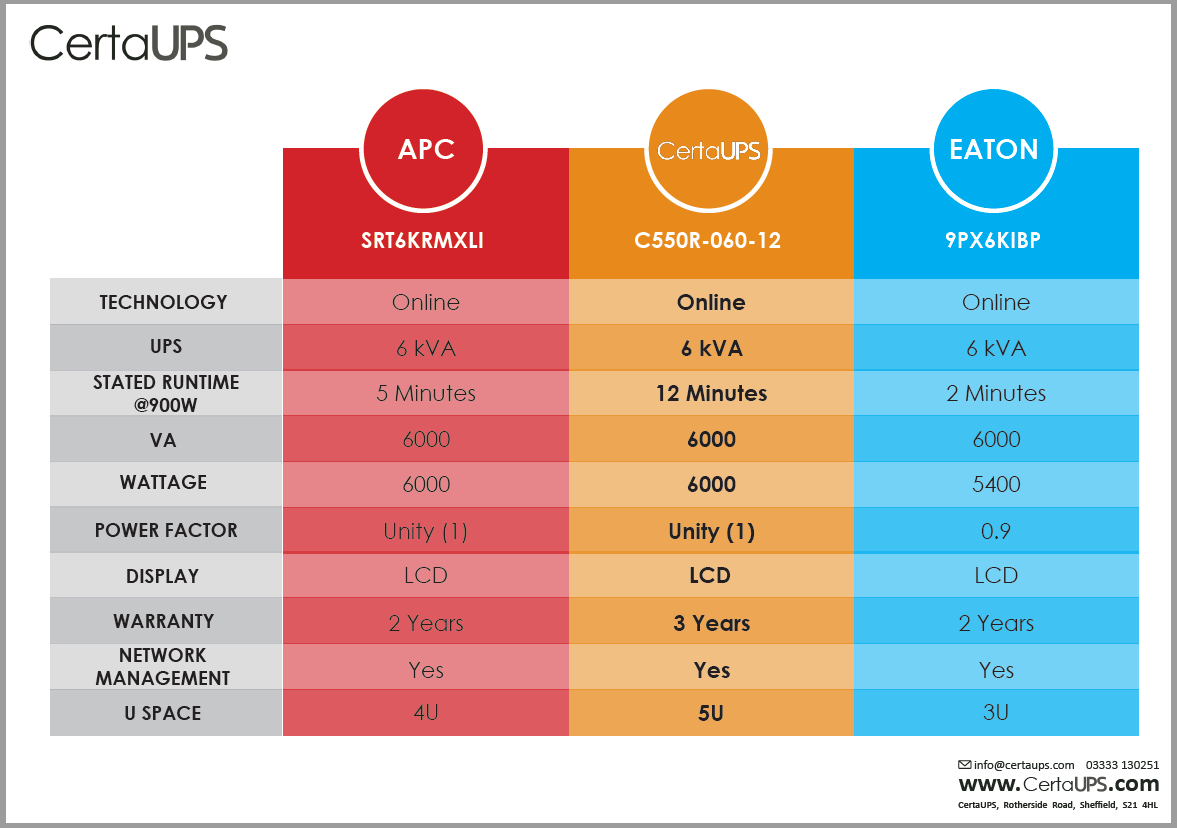 Comparison table – CertaUPS C550R-060-12 vs APC SRT6KRMXLI vs Eaton 9PX6KIBP
CertaUPS Reseller Guide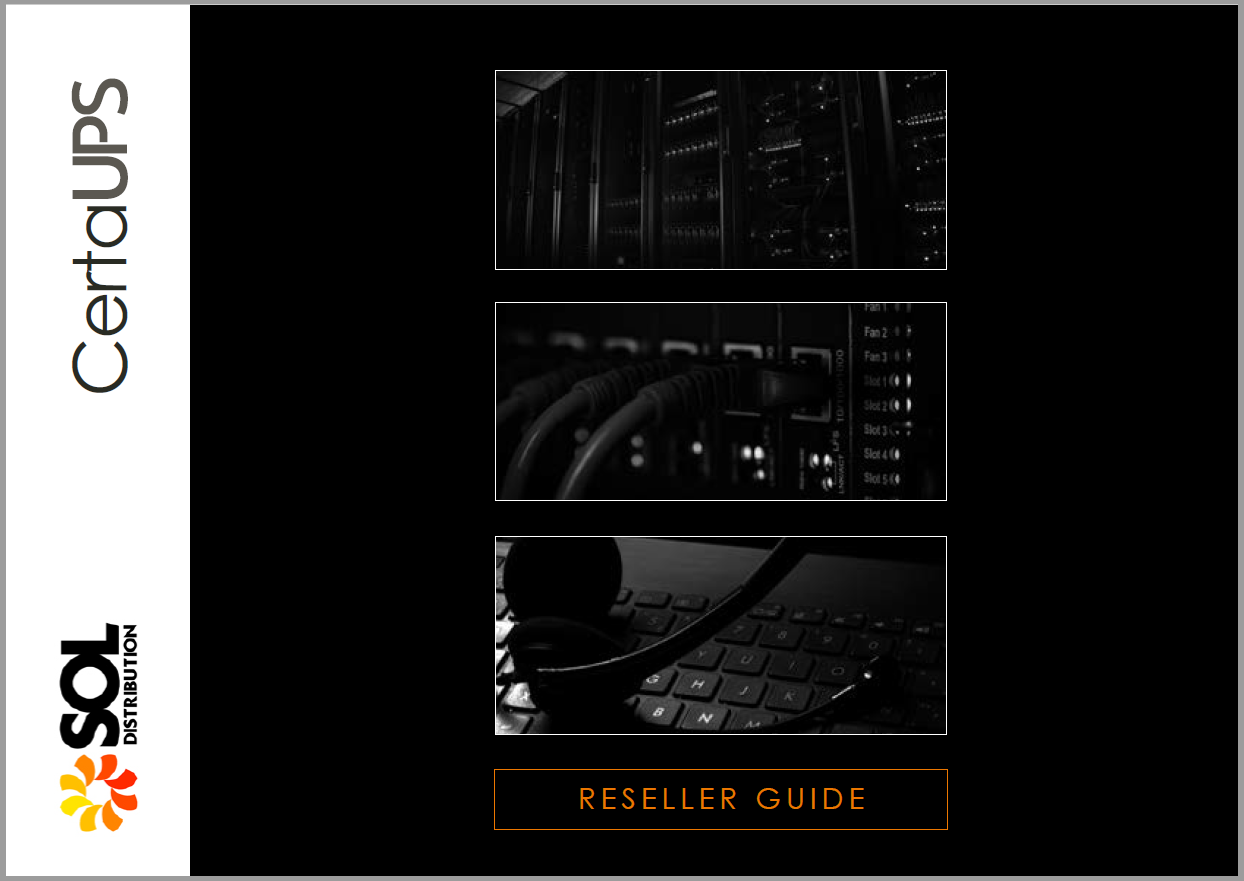 CertaUPS Reseller Guide
---
Want more information?
If you would like more information on any of our products and services, please contact us by clicking the button below, or ring us on +44(0)1691 680 830.

Follow us on Social Media: