Meeting the needs of a world on the move
Solutions for Transport
Transportation systems are evolving to meet the needs of a world on the move. From airplanes, high-speed trains to self-driving cars, the transportation industry is harnessing the power of IP connectivity and the Internet of Things. Sol Distribution can provide a number of different solutions for a variety of transportation  applications, and also has a network of resellers and systems integrators that can have a wealth of experience in the sector, and can assist in the implementation of transport-based networking solutions.
Alcatel-Lucent Enterprise
Hardened Ethernet & Management
Transportation Systems:
Often cover a wide geographic area within a metropolitan area or between different cities
Equipment installation locations can be by the roadside, in subway stations, or railroad stations
Increasing need to securely connect to devices in harsh environments requiring power (PoE)
Hardened Ethernet Edge Switches are a good fit for these installations due to their support for long haul fibre, gigabit speeds, fault recovery, PoE and advanced L2/L3 protocol support.
Value Proposition for Customers:
Unique mix of intelligent network components with ruggedised design
Wired and wireless connectivity for harsh environments like Transportation, Railroads, Highways, Utilities, and Vehicle communications
Differentiated feature set, e.g. SPB-M, High-power PoE and precision time protocol (PTP)
Resilient infrastructure with specialized capability to address customer specific needs
Ruggedised Switches, Access Points and Routers

OmniSwitch 6855 Series Hardened Switches
Alcatel-Lucent OmniSwitch™ 6855 Ethernet Hardened LAN Switch models are industrial grade, managed, Gigabit Ethernet switches designed to operate reliably in harsh electrical and severe temperature environments.
This superior, rugged hardware design coupled with the widely deployed and field proven Alcatel-Lucent Operating System (AOS), makes it ideal for the following:
Industrial and mission-critical applications – locations that require devices to operate at wider operating temperatures, have more stringent EMC/EMI requirements and have an optimized feature set for high security, reliability, performance and easy management.
Applications requiring Gigabit backbone connectivity – power utilities, transportation and traffic control systems, industrial factory floor installations, video surveillance systems and outdoor installations.
The target applications for these versatile LAN switches are power utilities, transportation and traffic control systems, industrial factory floor installations, video surveillance systems and outside installations, all requiring the benefits and performance of IP and Gigabit Ethernet.
OmniSwitch 6865 Series Hardened Switches
The Alcatel-Lucent OmniSwitch 6865®is a family of ruggedised, advanced Layer 3, scalable Ethernet switches, designed to operate reliably in the harshest industrial environments and severe temperatures.
OS6865 switches are rugged, high bandwidth switches that are ideal for industrial and mission-critical applications that require wider operating temperature ranges, stringent EMC/EMI requirements and an optimised feature set for high security, reliability, performance and easy management. These switches run on the widely deployed and field-proven Alcatel-Lucent Operating system offering SPB-M based VPNs and other advanced routing and switching capabilities.
The OS6865 series offers a unique mix of features to cater to the Hardened Ethernet applications HPoE for (75W PoE) for those power hungry devices on the access network, SPB-M for fast, cost-efficient roll-out of VPN services on the edge and a comprehensive suite of security features  to secure the network edge. These switches are easy to deploy with Alcatel Lucent's award winning Intelligent-Fabric technology which offers out-of-the-box plug-and-play, Zero-touch provisioning and network automation. These switches are future ready with the HW designed to support IEEE 1588v2 PTP capabilities for timing requirements of industrial devices. The OS6865 family offers advanced system and network level resiliency features and convergence through standardised protocols.
These versatile industrial switches are ideal for deployment in transportation and traffic control systems, power utilities, video surveillance systems and outdoor installations.
OmniAccess ESR Rugged Routers
Alcatel-Lucent OmniAccess 5725 Enterprise Services Routers (ESR) are highly intelligent industrial-grade routers that deliver secure and reliable broadband IP connectivity to vehicles, as well as SCADA telemetry and remote control networks. Their possible uses include vehicle connectivity, Smart Grid deployment, pipelines and other industrial environments.
Thanks to the integrated Ethernet switch, OmniAccess ESR routers are capable of serving a large number of intelligent electronic devices at the remote site without additional equipment.  They contain the full top-of-the-line routing and switching features of the rest of the OmniAccess ESR router line.
The router can guarantee optimum performance and maximum security in communications among multiple services in different IP networks. It multiplexes remote site communications using embedded cellular broadband or DSL links. Maximum reliability communication is guaranteed thanks to a full range of management, supervision and backup functions.
Alcatel-Lucent OmniAccess ESR routers are equipped with the intelligence required for the efficient implementation of highly secured, scalable and permanently available communication services based on broadband links. Communications' security is supported with state of the art low latency hardware encryption, and the most complete stack of VPN protocols and firewalling techniques.

OmniAccess 270 Series Outdoor Access Points
The innovative Alcatel-Lucent OmniAccess® 270 series outdoor wireless access points (APs) are aesthetically designed to deliver gigabit Wi-Fi® performance to 802.11ac mobile devices under any weather conditions. The OmniAccess 270 series is also the only outdoor AP that enables 802.11n clients to operate three times faster at greater distances.
Datasheet: OmniAccess 270 Series Outdoor Access Points 
Transition Networks
Industrial Switching & Media Conversion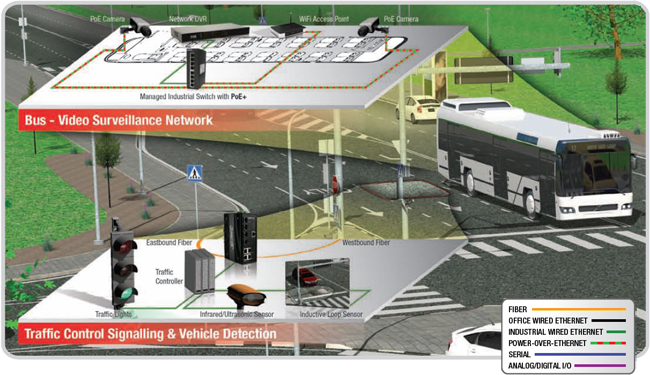 In-Vehicle Deployment – Gigabit PoE+ Industrial Switches
Transition Networks understands that the utmost importance of ITS applications is to ensure that the safety and security of passengers and equipment are maintained, which extends to onboard vehicle applications. Transition Networks offers a Power-over-Ethernet Plus (PoE+) switch that utilizes vehicle power to enable onboard video security and wireless services. The industrial PoE+ switch is a High Power Sourcing Equipment (PSE) device that complies with the IEEE802.3at standard, providing PoE over standard twisted pair cables in an Ethernet network. Operating from a wide-input power range of +12 to +48 VDC, the device was designed to provide communication services on-board vehicles, and its extended operating temperature range of -40 to +70 C allows the switch to be located outside of the environmentally conditioned passenger areas.
Traffic Control Signalling and Vehicle Detection – Managed Gigabit Industrial Switches
Traffic signal control systems are used to coordinate with the individual traffic signals that make up an Intelligent Transportation System (ITS). These systems consist of traffic control signals, partnered with ground detection loops or other means of vehicle detection at intersections, and a robust communications network linking intersection controllers together, providing the ability to remotely manage and troubleshoot the traffic signal control system from a central location. Transition Networks' hardened products are used to integrate the robust communications network and remote management system, which adhere to the Standard TCP/IP Ethernet protocol and run across the fibre-optic infrastructure.

Digital Signage and Traffic Notification – Gigabit Industrial Media Converters
Digital signage is an extension of the traffic control signalling and vehicle detection network, operating over the same mission-critical communication network and fibre-optic infrastructure to disseminate relevant driver information in order to reduce commute times and protect motorist safety.   The use of digital signage to notify drivers of accidents, emergencies, and commute times has become widespread throughout Intelligent Traffic Systems as it proves to be a concise and efficient communication tool. Transition Networks' designs hardened devices with extended operating temperatures and small form factors designed for outdoor ITS applications.
Video Surveillance Network – Gigabit Industrial PoE+ Switches
Unlike traditional IP surveillance and property protection applications, video surveillance equipment within an Intelligent Transportation Systems is used to monitor the flow of traffic and to identify any accidents or traffic congestion on the road.  Due to the massive geographic coverage area, the harsh environmental exposure and the mission-critical nature of ITS surveillance networks, fibre-optics and hardened industrial rated equipment have become the choice for robust transportation systems. Transition Networks' rugged PoE switches deliver the advanced Ethernet management, redundancy and network security features needed for ITS applications.
Want more information?
If you would like more information on any of our products and services, please contact us by clicking the button below, or ring us on +44 (0) 1691 680 830.