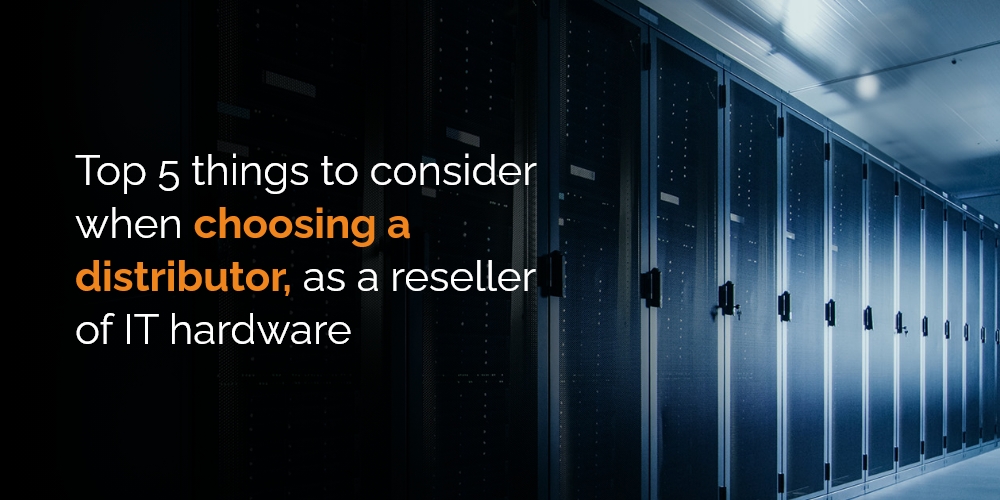 Top 5 things to consider when choosing a distributor, as a reseller of IT hardware
As an IT reseller, choosing the right distributor is everything when it comes to thriving in a competitive market.
Whether you're a seasoned reseller or just starting out, the distributor you choose can significantly impact your success and experience, not only with profit in mind, but also in pursuit of making your lives, and the end-user's lives easier.
Here are five key things to look for when picking a distributor to order from.
Diverse product range
Often, projects that require the purchase of quality network and security hardware are multi-faceted, therefore, picking a distributor that offers a broad product range is essential for resellers operating in the IT channel.
Networks, by nature, are chained together by various hardware types such as routers and switches. Thus, as requirements grow and budgets increase, having the ability to purchase different types of hardware from the same place is essential (nobody wants staggered delivery times or hardware compatibility issues).
Niche expertise
It's important to pick a distributor with deep expertise in your specific field.
Distributors that cast a wide net with regards to the products they offer might, in turn, have limited knowledge on each individual product. By picking a distributor that specialises in a niche that's right for you and your clients, you can reap of the benefits of expert advice and guidance.
Quality assurance and reputation
If a distributor you're looking at specialises in the distribution of products from widely known and well-respected vendors, this will give you peace of mind that what you're looking to purchase will be high quality and reliable. After all, their reputation directly impacts your own reputation.
Be sure to research the background of the vendors they work with, so you have a solid understanding of what you're in for. The chances are, if they work with huge names like ASUS or Alcatel-Lucent Enterprise, then you can rest assured that what you'll be receiving will be of high quality.
Dedicated reseller support
Network and security hardware can be highly complex and difficult to understand, especially for non-technical types. A high-quality distributor will provide pre-sales guidance, technical assistance and post-sales support – not cease their services as soon as your order has been dispatched.
Reliable logistics and timely delivery
Timely delivery and lead times are a critical aspect of running a successful reselling business. A distributor with a robust reputation will often advertise their delivery times on their website and social media pages, giving you a great idea of what you can expect from them.
If you're an IT reseller looking partner with a highly respected distributor that will help you grow your business, we at Sol Distribution tick all the boxes. Place an order with us now or send us a message to start your journey with us today.