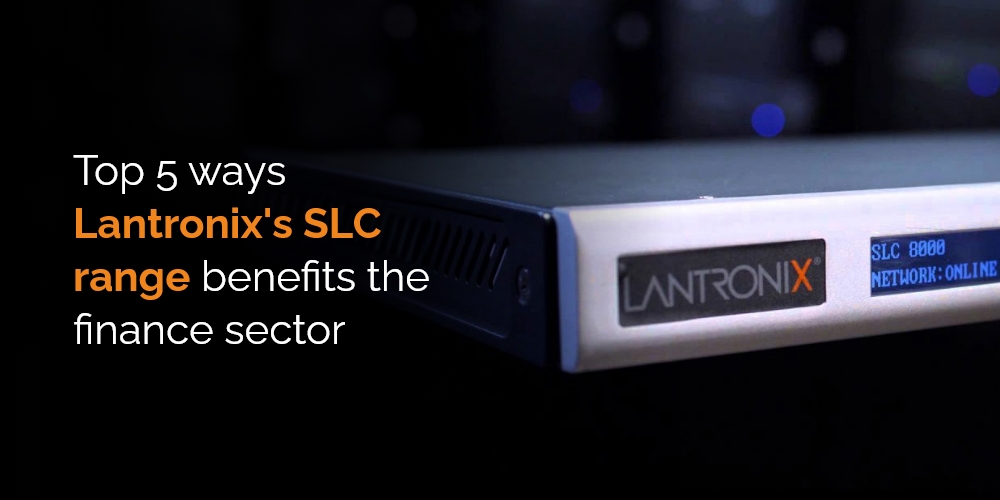 Top 5 ways Lantronix's SLC range benefits the finance sector
Product spotlight: Lantronix SLC range
It's hard to name an industry where the stakes are higher than those in the finance sector. Reliable hardware and secure software form the backbone of any banking organisation, with security, management and compliance ranking at the top of the list of priorities when banks consider adopting new, innovative hardware to support their operations.
The Lantronix SLC (SecureLinx Console Manager) range allow organisations access to complex, yet critical network and server infrastructure. The SLC range is a stand-out product for this type of industry where standards are high. Here are the five most significant ways this product helps support the finance sector.
Remote management
The SLC range empowers IT professionals to remotely access and control critical network and server infrastructure, regardless of their physical location. This capability is paramount in the finance sector where operations run on a 24/7 basis, where downtime can translate into substantial financial losses.
Reduced downtime
With remote access and control, IT teams can swiftly diagnose and resolve issues, minimising downtime and ensuring uninterrupted financial operations. This means more money saved and smoother customer experiences.
Security
In finance, safeguarding sensitive data is number one on the list of priorities. Lantronix's SLC product line offer robust security features, including encryption and strict access controls. This ensures that only authorised personnel can access and manage the infrastructure remotely, providing peace of mind in the face of cyber threats.
Scalability
Financial institutions, particularly those on the larger side, require solutions that can scale to accommodate their ever-expanding IT infrastructure. Lantronix SLC devices are designed to handle many serial console ports, making them the ideal choice for banks that are concerned about how such a product might handle fast growth.
Reliability
Uninterrupted service is non-negotiable in the finance sector, particularly with banks. Lantronix products are renowned for their high reliability, equipped with redundant power supplies and failover capabilities. This reliability ensures that financial operations run smoothly, even in the face of hardware failures.
Are you ready to enhance the financial operations of your clients alongside a highly reputable distributor of IT network and security hardware? Contact us to place an order on Lantronix SLC range.