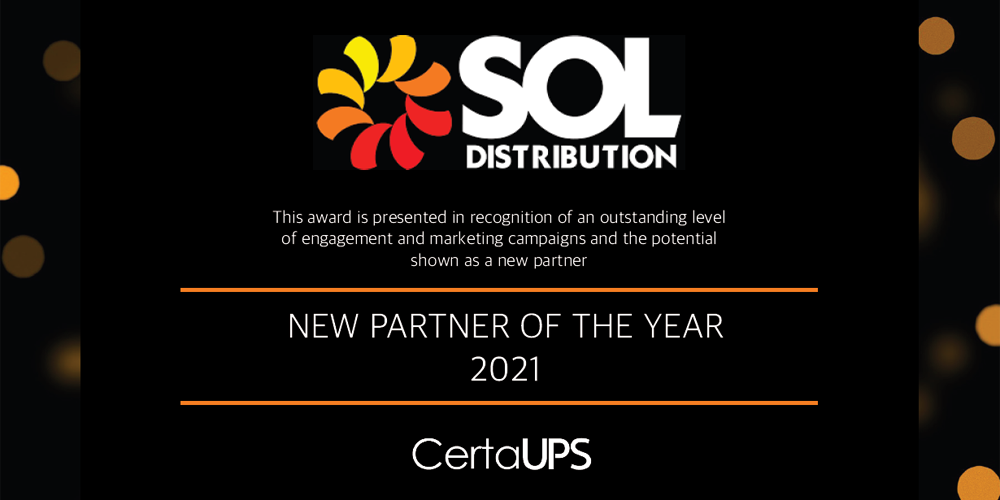 We are delighted to announce that Sol Distribution has been awarded the CertaUPS New Partner of the Year Award for 2021. This award recognises the initial performance and overall potential of a distributor that has registered as a CertaUPS partner in the last 12 months.
Kate Aldridge, Group Brand Manager for CertaUPS said "Sol Distribution has demonstrated a strong commitment to its customers and a dedication to learning about the CertaUPS brand. Sol has already shown a substantial marketing presence and high customer engagement."
In accepting the award, Graeme Sutton, Managing Director of Sol Distribution said "Many thanks to CertaUPS for this award, it's an unexpected but very welcome accolade. In the 6 months we have been working together, we have found the team at CertaUPS very supportive and responsive to our needs, and their excellent combination of quality and competitive pricing has allowed us to address some new verticals. We are looking forward to further developing our partnership in 2022".
About CertaUPS
CertaUPS has unmatched experience across the field of emergency power, which enables it to deliver the most reliable UPS technologies, which have been designed and engineered to cope with harsh and ever changing electrical environments. This, coupled with its industry leading technical service support delivers an all-encompassing and full-service approach, which makes CertaUPS one of the most sought-after UPS partners. For further information please email info@certaups.com or call 03333130351
To learn more, visit our CertaUPS page by clicking here >>
---
Want more information?
If you would like more information on this news story, or any of our products and services, please contact us by clicking the button below, or ring us on +44(0)1691 680 830.

Follow us on Social Media: