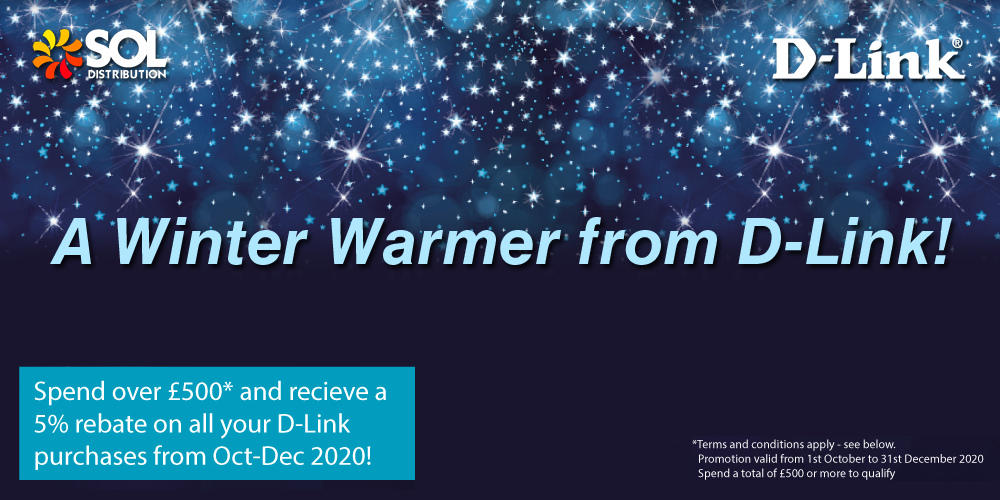 Sign up for the Winter Rebate Program from D-Link
A Winter Warmer from D-Link
In Q4 this year, our partner D-Link are giving our partners a welcome gift. Spend over £500 on any product from the D-Link portfolio from Sol Distribution between 1st October and 31st December and you can claim a 5% rebate or the equivalent value in Amazon vouchers. To qualify, all you have to do is sign up to the D-Link VIP+ program via the link below or contact your account manager.
To sign up click the button below:

Terms and Conditions:
The Promotion runs between 1st of October to the 31st of December 2020. Promotion available to approved D-Link VIP + Partners in the UK or Ireland who have met the criteria of the program and you purchase D-Link products from D-Link's authorised distributors in the UK or Ireland. Only one rebate or Amazon voucher claim per registered VAT number to receive your Amazon voucher you must opt in and complete stroke submit a claim form to D-Link claims must be received by D-Link no later than 5 p.m. GMT on Friday the 15th of January 2020.For complete terms and conditions click here >>
---
Want more information?
If you would like more information on this news story, or any of our products and services, please contact us by clicking the button below, or ring us on +44(0)1691 680 830.

Follow us on Social Media: