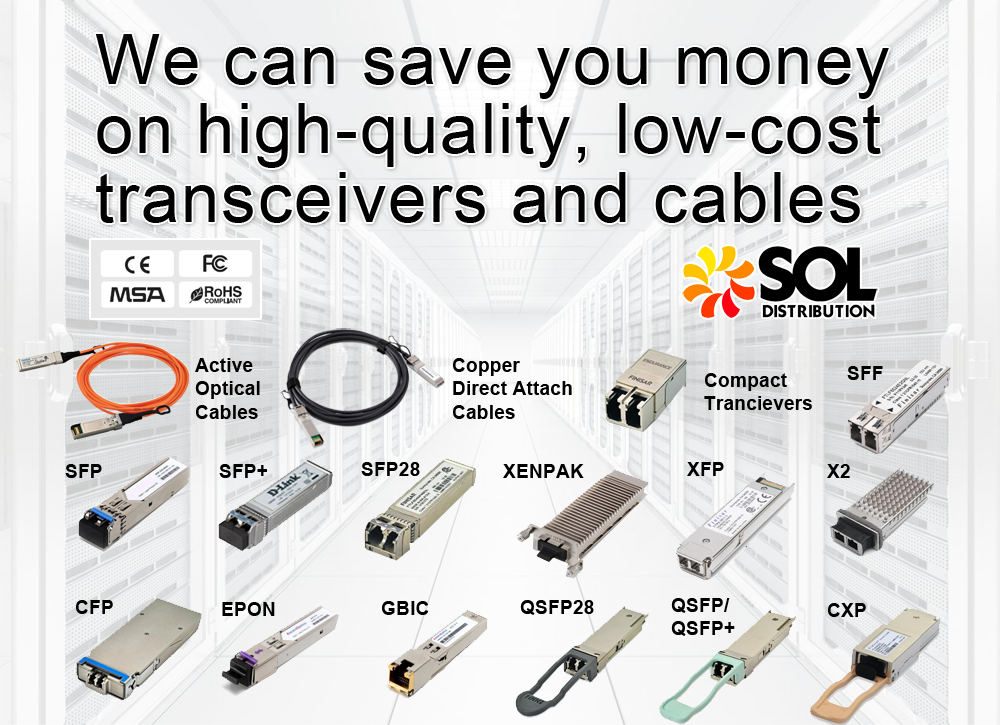 We Can Save you Money on High-Quality, Low-Cost Transceivers & Cables
If you buy branded pluggable transceivers, DACs or cables for your projects, you know how expensive they can be. Sol Distribution can provide low-cost alternatives that are of equal quality, often with lower power consumption than official modules, and all at a fraction of the price.
Compatible Transceivers
At Sol Distribution, we can supply a wide variety of transceivers from a number of different vendors, including original OEM products from manufacturers like Alcatel-Lucent Enterprise, ADVA Optical Networking and Transition Networks, as well as compatible transceivers from 3rd party ODMs like Finisar and  Starview International.
Cables
Many of our customers like to order patch cords together with their transceivers. We can supply a wide range of types, lengths and colours of cables, as well as Direct Attach Copper (DAC) cables and Active Optical Cables (AOC). Ask us for more information.
For pricing, datasheets, or to claim your free evaluation units, please contact us by clicking the button below, or ring us on +44 (0) 1691 680 830.
8 Reasons to Buy Compatible Transceivers From Sol Distribution
1. Full Standards Compliance
In the pluggable transceivers market, brand-name OEMs (Original Equipment Manufacturers) like Cisco, HP and Juniper don't actually manufacture their own transceivers; they source the item from optics manufacturers such as Finisar, Avago, and Lumentum under contract, rebranding the optics with their logo.
The reality is that there are only a handful of facilities in the world that produce optics, and they make transceivers for everyone, to a strict set of internationally agreed rules and standards as set out by MSA (Multi-Source Agreement). The MSA will define the characteristics of the system and is typically an agreement between multiple manufacturers. The agreements guarantee that any device of a particular type will function properly.
Article: Multi-Source Agreement and why it is important for the pluggable transceiver market
So, whether you are buying from an OEM such as Cisco or HP, or a third party supplier, the likelihood is, that these products were made in the same factories, built to the same internationally agreed MSA standards, with the same components. Since transceivers are fully specified by internationally agreed-upon standards anyway, there's no risk of incompatibility.
As an example, our compatible transceivers from Starview International conform to a number of international quality standards including all of the following:
ISO9001:2000
GR-253-CORE
ITU-T G.957
SFF-8472
Class 1 Laser Safe
EMI Emission below FCC Class B
UL, FCC, TUV and ROHS6 Certified
SFP MSA Compliant
IEC 60825 and IEC 60950 compliant
Ethernet 802.3 compliant
CE Mark
All optical transceivers supplied by Sol possess superb compatibility and excellent performance. Despite extremely competitive pricing, there is no compromise on the quality of the product, and all modules undergo stringent quality control.

2. Price
As with all IT hardware, cost is always a factor, and the cost savings that can be made with third-party optics in comparison to original, branded transceivers really cannot be overstated.
Depending on the model, branded transceivers are anywhere from 50% to 500% more expensive than third-party compatibles.  Why pay hundreds for a unit that only cost a tiny fraction of that to manufacture?
Quite often a full loadout of third-party transceivers can save so much on an upgrade budget, that in enables the user to fund entirely new pieces of hardware.  As first party transceivers tend to be based on slightly older technology here are even instances where the third party transceivers give lower power consumption that the branded optics, saving extra money over the life of the equipment.
So why are OEM transceivers so expensive?
You are paying for the brand, if you go down to the local supermarket pharmacy, you will see that branded painkillers are many times more expensive than the un-branded Paracetamol or Ibuprofen, even though they contain exactly the same ingredients. The same goes for compatible transceivers. You are paying for marketing and support which for a product such as an SFP which typically have very low failure rates, is a false economy. Really, there's no compelling reason to over-pay for the name brand optics.  Just like buying generic medication at the pharmacy, there is truly no difference aside from the name that's on the packaging.
3. Choice
Our optics are fully compliant with Ethernet, Fibre Channel, SONET/SDH/OTN and PON standards and operate at data rates up to 100 Gb/s. They are capable of distances ranging from very short reach within a data center to campus, access, metro, and long-haul reaches. They feature outstanding performance over extended voltage and temperature ranges, while minimising jitter, electromagnetic interference (EMI) and power dissipation.  We can supply transceivers in all of the following form factors:
Small Form Factor (SFP) Transceiver Modules
Small Form Pluggable Plus (SFP+) Transceiver Modules
Giga-Bit Interface Converter (GBIC) Transceiver Modules
XFP Transceiver Modules
XENPAK Transceiver Modules
X2 Transceiver Modules
QSFP Transceiver Modules
CFP Transceiver Modules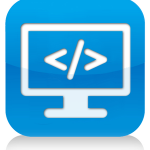 4. Compatibility
We can supply transceivers that are compatible with any major manufacturer. All it takes is code loaded on an EPROM – included in the transceiver- identifying it to your networking hardware and your equipment can't tell the difference. We can even supply units you can code yourself. Just some of the manufacturers our transceivers are compatible with are listed below:
CISCO
Juniper
Alcatel Lucent
Extreme Networks
Force 10
Huawei
HP
H3C
Arista Networks
Transition Networks
ADVA Optical Networking
BTI
Intel
EXFO

JDS
Tellabs
Nortel Networks
Netscout
Adtran
Brocade
Ericsson
RAD
Avaya
NSN
VSS Monitoring
Gigamon
Cyan
and many more
5.  Longer Warranty Period
So what if a transceiver does fail? Well the 3rd party optics supplied by Sol Distribution come with longer warranties than branded optics.
Besides having much higher prices, the name-brand transceivers also tend to have fairly short warranty periods, the typical length among the big players being 12 months.
However, the third party optics supplied by Sol Distribution, come with much longer warranties, usually 3+ years, including replacement units in the very rare case of failure. So, not only do you get a product of equal quality at a fraction of the cost, we are so confident of the reliability of our products, we give a better warranty than the big brand OEMs.

6. Money Back Guarantee
Again, we are so confident that you will be pleased with your purchase, that we offer a full money back guarantee. If you are unsatisfied for any reason, you can return the products within 30 days for a full refund.
7. Availability
Because we have a number of different manufacturers to choose from, we can offer a wide line of transceivers that even OEMs cannot provide. There's no need to source them or wait for manufacturers to fulfil the order. Sol can ship them immediately. Sol Distribution keeps many of our transceivers in-stock and ready to ship at a moment's notice. Same-day shipment is even a possibility in many cases, should an emergency occur.

8. Free Evaluation Units – Try Before you buy
Sol Distribution is so certain that you'll see no difference whatsoever between our compatible SFP units and the name-brand versions that we'll send you evaluation units, free of charge. You can test them to your heart's content before deciding whether to buy them. This will help to answer any questions you may have over compatibility or performance.
Want more information?
If you would like more information on this news story, or any of our products and services, please contact us by clicking the button below, or ring us on +44 (0) 1691 680 830.

Follow us on Social Media: