Take the heat out of reopening businesses with the D-Link Group Temperature Screening Camera Kit
Scan up to 30 people at a time from up to 5m away, with ±0.3°C accuracy
With businesses now starting to reopen after the COVID-19 crisis, owners and operators will need a way to screen visitors to minimise the risk of infection. One way to do this is by utilising thermal imaging technology to identify individuals with a high temperature, who therefore might be infectious.
Now business operators can identify people with a fever precisely and accurately by using advanced infrared thermal imaging technology from D-Link. Inspect flowing crowds in large areas and distinguish those that have an elevated temperature from those who don't. Raise the alarm immediately when someone with a fever is detected in real-time, with ±0.3°C medical-grade accuracy.
The DCS-9500T is a complete solution that comes with a thermographic camera, blackbody calibrator and comprehensive software suite which includes archive management, temp data reporting, statistic reporting and extensive analysis according to age/gender/time/type as well as system monitoring in real-time.
Features
• Multiperson Detection: Screen up to 30 people at the same time, with a rapid response time of less than 30 ms.
• Artificial Intelligence: AI‑based Facial Detection and Recognition is included free in D-Link's comprehensive management software which does everything needed for temperature monitoring and audible alarms.
• Accuracy = ±0.3°C: With up to 17 colour image modes, thermal detection with overtemperature alarm, disk alarm and digital I/O alarm.
Sharper visual and thermal imaging.
Utilise the uncooled IRFPA microbolometer high-resolution thermal sensor and digital signal transmissions to deliver superior, razor-sharp thermal imaging video footage in real-time.
AI Facial Recognition with Early Warning Management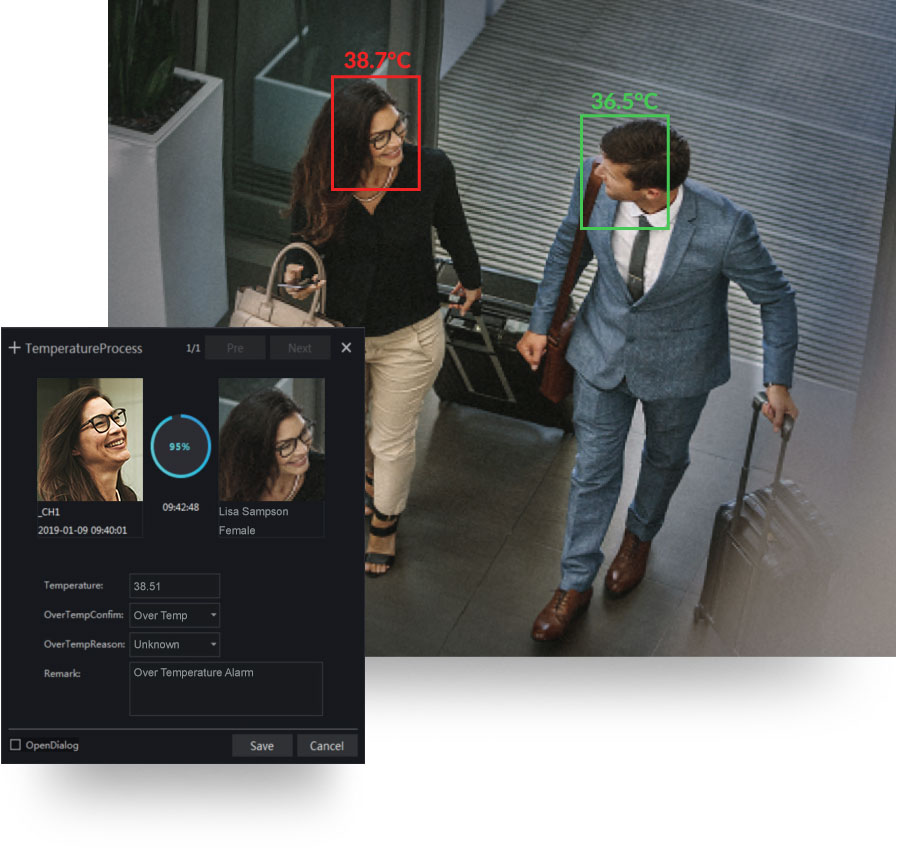 Provides the time and location of the over-temperature target immediately, which solves the problem of unconfirmed over-temperature target information. At the same time, the camera provides materials for further supervision and sends a report for useful data-analysis.
AI-based Facial Recognition can be used in tandem with thermal imaging to grant building access, and so doors or gates can open when a person is recognised and without an elevated temperature.
Check up to 30 faces at the same time, within 30ms.
This solution provides fast and accurate skin-surface temperature detection1 for up to 30 people simultaneously, with a ±0.3°C precision, so that you can be alerted instantly to intercept and take appropriate action.
Rapid temperature checks of moving crowds, without the wait.
People moving shouldn't get in the way of protecting your business, nor should they be forced to queue up. With the help of AI-facial recognition, you can scan up to 30 faces in less than 30ms to check their temperatures as they move.
Everything you need to get started.
The DCS-9500T all-in-one fever screening kit has everything you need to start measuring the temperatures of groups of people simultaneously with precision. It includes the thermographic camera, blackbody calibrator, two wall mount brackets, and free management software with AI capabilities. No additional hardware or software required.
• Thermal Camera: ONVIF compatibility allows for easy integration with existing D‑Link NVRs, while PoE support gives additional flexibility on where the camera can be installed using a single cable.
• Blackbody: The thermal camera uses a blackbody as a constant stable temperature source to calibrate the temperatures with greater accuracy.
• Advanced software: With the free management software, up to 30 facial images per second can be screened, as well as processing up to 16 facial against an optional facial database of up to 10,000 enrolled facial images. Also compatible with the optional DNR‑2020‑04P.
• Brackets: The DCS‑9500T comes with free wall‑mount brackets. It's also compatible with the DCS‑9500T‑1 Ceiling Mount Bracket.
Watch the Video

Download Datasheet
Click to download the datasheet
Want more information?
If you would like more information on this news story, or any of our products and services, please contact us by clicking the button below, or ring us on +44(0)1691 680 830.

Follow us on Social Media: