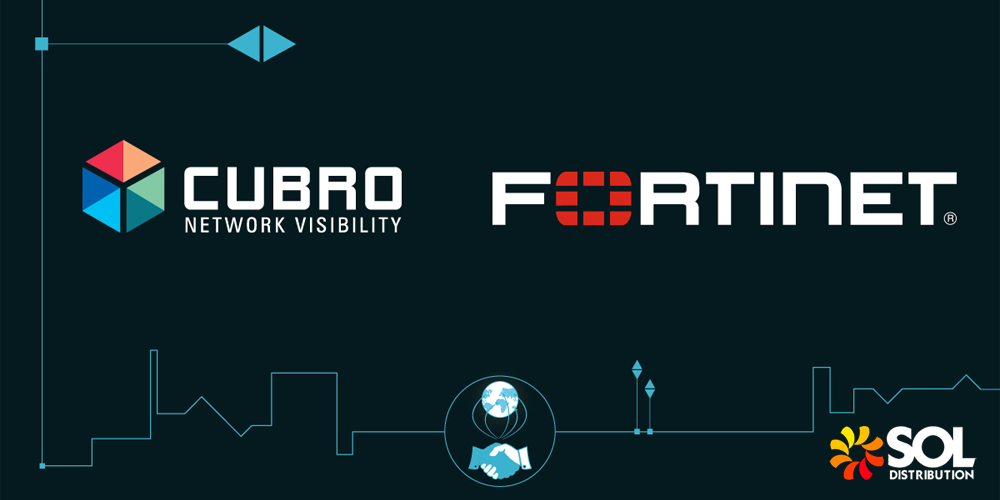 Cubro joins Fortinet Open Fabric Ecosystem
Optimal Performance and Enhanced ROI with Cubro and Fortinet
Cubro, a leading manufacturer and global supplier of IT network visibility products, has recently joined Fortinet Open Fabric Ecosystem supporting Fortinet's mission to deliver cybersecurity solutions designed to provide broad visibility and automation for end-to-end security of the digital attack surface through its integrated Fortinet Security Fabric platform.
The integration of the Cubro EX400 Advanced Bypass Switch product and Fortinet FortiGate Next-Generation firewall and Secure SD-WAN, enabled through the Fabric-Ready Program in the Fortinet Open Fabric Ecosystem, delivers high availability, load balancing, and enhanced serviceability for the Fortinet in-line security infrastructure across branch offices and network datacenters.
"Cubro is very excited to be part of the Fortinet technology ecosystem. Our joint solutions provide enhanced functionality and serviceability to Fortinet's customers, demonstrating Cubro's "Better Together" approach to partners. We look forward to developing further initiatives as part of the Open Fabric Ecosystem and adding value for both Fortinet and joint customers."
David Burns, Vice President of Strategic Alliance – Cubro.
---
Book a Consultation
If you would like to book a technical consultation, demo, or just discuss how Cubro can help you get more out of your Fortinet Solutions, you can book a call with a Cubro expert by clicking the button below.

---
Fortinet and Cubro Secure
New Cellular Networks
Security for new cellular networks (private LTE/5G, Industrial Internet of Things [IIoT], and nontraditional networks) based on new spectrum must be "always on" but also secure. FortiGate and FortiWeb appliances provide advanced in-line protection for the network infrastructure and applications. Cubro's EX400 Advanced Bypass Switches provide redundancy and high availability, and enhanced serviceability of the Fortinet appliances.
Joint Solution Benefits

  Reduce CapEx and OpEx through downtime mitigation and enhanced network serviceability, and drastically mitigate maintenance
and recovery windows


  Ensure a highly available network that is always protected


  Simply add security capacity as needed via advanced load balancing


  Use the most cost-effective interfaces on every device


  Visualize and secure end-to-end from network infrastructure to applications
Read the Joint Solution Brief
Fortinet and Cubro Secure New Cellular Networks
---
Fortinet and Cubro Integrated
Security Solution
Failsafe Devices for Fortinet FortiGate and Secure SD-WAN for Improved Network Service Continuity

Software-defined wide-area networking (SD-WAN) allows organizations to capitalize on multiple service provider options and build redundancy in internet connectivity. It also creates multiple network perimeters to secure and requires an equally resilient solution for customer premises equipment to realize maximum benefit. FortiGate both enables and secures the SD-WAN network border while Cubro provides redundancy and high availability of the Fortinet Secure SD-WAN appliances.
Joint Solution Benefits

  Reduce operating expense through increased serviceability and downtime mitigation


  Enhance performance through load balancing during normal operations


  Secure branch offices with class-leading redundant security architecture


  Gain network resilience and drastically mitigate maintenance and recovery windows


  Device failover while retaining full throughput of SD-WAN connections
Read the Joint Solution Brief
Fortinet and Cubro Integrated Security Solution
---
Want more information?
If you would like more information on this news story, or any of our products and services, please contact us by clicking the button below, or ring us on +44(0)1691 680 830.

Follow us on Social Media: