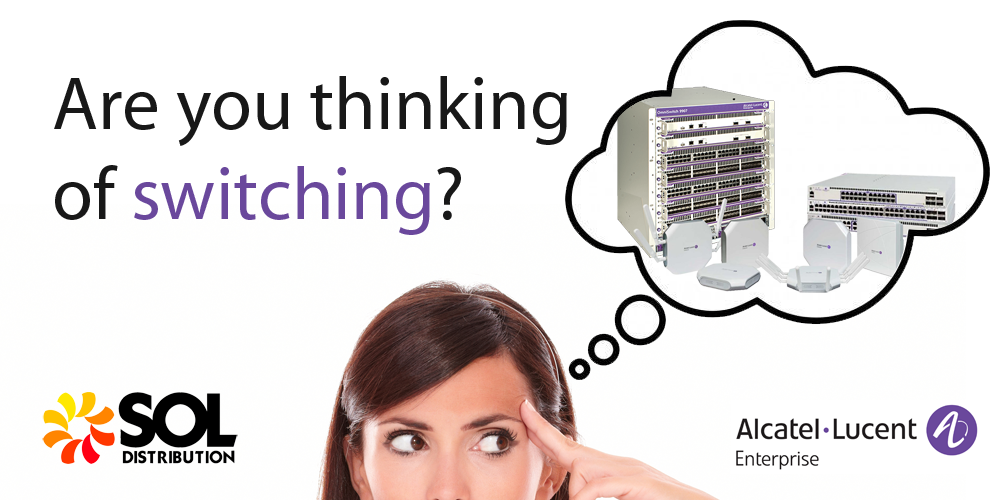 Are you thinking of switching?
A growing number of resellers and end-users are making the switch to Alcatel Lucent Enterprise (ALE) data networking products, allowing them to deliver advanced networks, cloud and hybrid cloud communications solutions to small, mid, and large customers, all while being more cost-effective for end-users and retaining more profit for themselves.
   One of the fastest growing networking vendors in Europe.
   Award winning technology, through massive R&D re-investment.
   Future-proofed product set, ready for Data Centre, Cloud & Hybrid Cloud deployments.
  Comprehensive LAN & WLAN portfolio with unified management.
  3 year maintenance support included & free engineer training (subject to status).
   Experienced Cisco engineers can be quickly trained to use ALE equipment (same CLI).
   Proactive vendor support from start to finish.
   ALE provides business protection not available from Cisco or HP (i.e. ring fenced deals).
  Test and proof-of-concept units available.
  OPEX-based consumption model available for service providers (Network on Demand).
Don't just think about switching – Switch your thinking!
---
About Alcatel Lucent Enterprise
Alcatel-Lucent Enterprise is a leading provider of enterprise communications solutions and services, from the office to the cloud. Building on an established heritage of innovation and entrepreneurial spirit, ALE operates globally with 2700+ employees in 100+ countries worldwide, with headquarters near Paris, France. With communications, networking and cloud solutions for business of all sizes, ALE's team of technology experts, service professionals, and 2900+ partners serves more than 830,000 customers worldwide, tailoring and adapting solutions and services to local requirements. Read more on our ALE vendor page>>
---
Join Our Partner Programme
Sol Distribution is now recruiting resellers for our ALE partner programme. Registered partners receive extra discount on orders, can benefit from dedicated sales, technical and marketing resources, and there are no expected revenue targets. If you are interested in joining you can contact Sol Distribution by clicking the button below or ring us on +44(0)1691 680 830.
---
Want more information?
For more information, visit our Alcatel-Lucent Enterprise vendor page or click the links below:
News Story: Sol Distribution and partners help the Scottish Government centralise and secure their network
News Story: Flip the cost of network infrastructure from CAPEX to OPEX with Network on Demand
ALE Data Networking Products Foldout

ALE Converged Campus Network Solution Brochure

ALE Data Center Switching Solution

 Digital Age Networking for Enterprises Whitepaper

ALE Network On Demand Customer Brochure
Follow us on Social Media: